If you love your dog to bits but are getting a little tired of constantly having to clean up their messes, you may want to consider looking for a waterproof dog bed! An indoor or outdoor dog bed that's been treated to withstand plenty of wear and tear can help simplify your daily routine.
Before you choose which is the best waterproof dog bed that fits you and your dog, take a moment to consider the many different options that are available today! Check out our best waterproof dog products listed below, as well as some of the pros and cons of each washable or covered dog bed.
So Why Do I Need a Special Dog Bed?
As is the case when you purchase any new product for your dogs, your main motivations in looking for a new dog bed should be comfort and convenience. In other words, you're looking for a dog bed that will be comfortable for your dog but convenient for you and your lifestyle.
The biggest benefit of a waterproof dog bed is that it helps you keep your home clean. Whether your dog is prone to overnight accidents, drools when they sleep, or just tends to track a lot of mud and water outdoors, dog beds can be a major pain to clean.
With a waterproof dog bed, you won't have to worry about any liquids sinking into your dog's bed. Instead, you'll only have to wipe the outer layer clean or wash the cover itself in extreme situations.
A waterproof dog bed is also going to be healthier for your dog. It reduces the risk of them sleeping in any sort of contaminant overnight and reduces their chances of catching various diseases that can be transmitted through liquid retention.
Moreover, by keeping your home cleaner, you'll be keeping your dog more comfortable and helping make sure that they get a better night's sleep!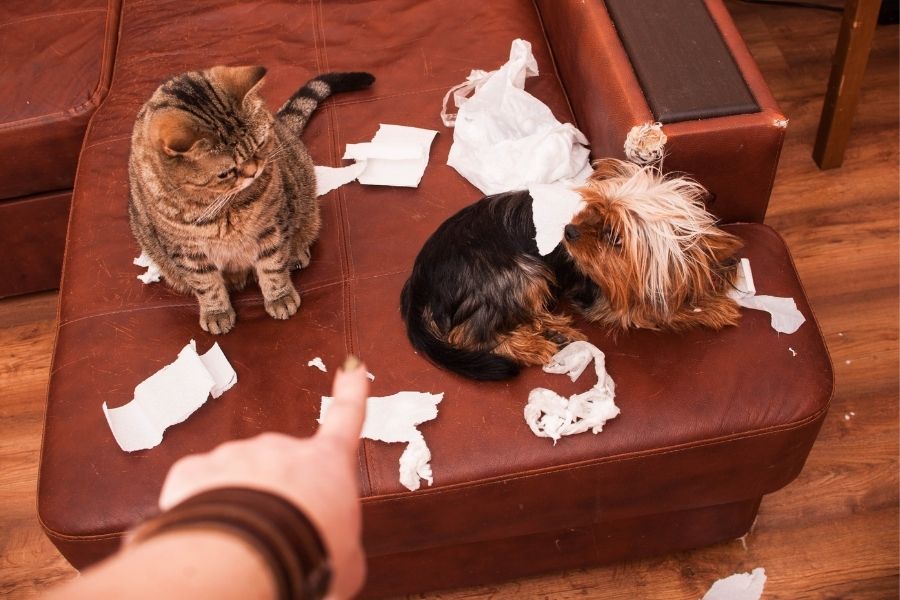 The Best Waterproof Dog Beds Reviews
There are plenty of indoor and outdoor dog beds available that will provide your dog with a comfy place to lay their heads overnight. However, when it comes to good-looking, dependable, high-quality beds that are waterproof and easily washable, we've put together a list of our top ten best dog bed options!
Check price
The Pet Fusion Dog Bed is a sturdy, dependable, and easily washable dog bed that is a great fit for dogs of all ages. It features a supportive foam padding that is super accommodating for dogs with stiff joints or muscle soreness while still being soft enough to set younger or healthier dogs at ease.

The outer layer of this Waterproof Dog Bed is made of an easy-to-clean blend of cotton and polyester that repels water and helps keep your dog healthy and safe. Just remove the bedding and wash it whenever you want to keep your home looking and smelling clean.

Perfect for:
older dogs,
dogs with muscle or joint conditions,
dogs who like a firmer mattress,
dogs who need a little bit of extra comfort in their bedtime routines,
owners who want a tough and reliable bed.
One of the best waterproof dog beds you can buy on the market!
Pros
large enough to fit most breeds
low profile to reduce space in home
supportive foam cushion
sturdy polyester blend that holds up to wear and tear
easy to spot clean (just wipe with a damp cloth) or fully clean using a regular machine washer
water resistant
tear resistant
Cons
the zippers on the base and side of the bed may start to stick after extended periods of use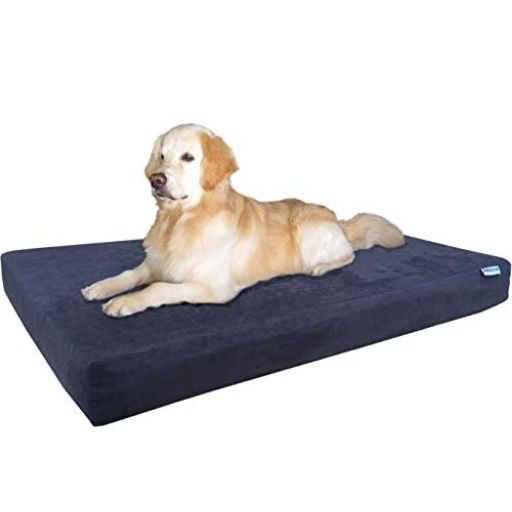 Check price
If you have a smaller dog but still want to make sure that your four-legged friend gets all the support and structure usually reserved for larger dog beds, the Dogbed4less Memory Foam Waterproof Dog Bed is a simple, dependable option among the best waterproof dog beds. Designed for smaller dogs, the memory foam mattress provides a luxurious resting spot for your pet!

The outer layer of this dog bed may retain some water, but the removable shell features two layers of waterproof lining so that the mattress pad itself stays clean and dry! The bed also features a layer of non-slip texturing on the bottom for a secure grip.

Perfect for:
smaller dogs,
older dogs,
dogs who need a little bit of extra luxury,
owners who don't have a lot of extra space,
owners who want an easy-to-clean option for their home and pets.
Pros
small and slim profile
textured bottom to reduce movement
soft lining on upper layer for a more luxurious resting space
easy to clean
available in multiple sizes in order to accommodate larger dogs
water resistant
tear resistant
fits easily inside of crates or sleeping pens
memory foam dog bed
Cons
if your dog likes to chew or shred
this bed may not be the best option
as the soft lining may encourage shredding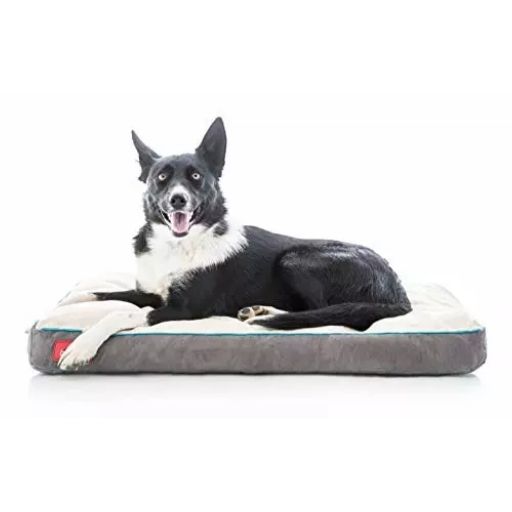 Check price
The Brindle Memory Foam Waterproof Dog Bed is a lightweight, breathable dog bed that can handle any adventure that life throws your way! Due to its portable size and negligible weight, it's a great fit for dogs (and owners) who like to get out and explore the world around them.

With three inches of shredded foam wrapped in a soft but sturdy microfoam outer layer, the Brindle Dog bed is as comfortable as it is practical. While you can't wash the pad itself, the outer layer unzips for a quick and easy clean whenever you notice dog hair starting to accumulate.

Perfect for:
dogs who like to sleep while they travel,
owners who need to save on space,
dogs who need more airflow as they sleep,
dogs that shed a lot,
medium to large dogs,
owners on the go
Pros
compact and portable
lightweight
breathable material
water resistant and tear resistant outer covering
quick and easy wash
designed for small to medium sized dogs
fits easily inside of crates
great fit for car rides
soft suede covering on outer layer
Cons
if you get this bed
make sure to give it a few days to "air out"
as you may notice a strong chemical smell otherwise
Check price
The Dog's Bed Orthopedic Waterproof Dog Bed is pretty much exactly what it says on the tin! It's specifically designed for use by dogs who suffer from aching joints or stiff muscles, so if your dog is particularly active or prone to injury, this may be an excellent fit for you and your dog.

The Dog's Bed mattress is also a great choice for dogs with growing mobility issues or trouble breathing. The low, slim profile is easy to access for dogs of any size, and the sturdy raised guards provide excellent neck support while your dog is sleeping peacefully.

Perfect for:
brachycephalic breeds,
dogs with issues climbing or jumping,
small dogs,
older dogs,
dogs with reduced mobility,
dogs who need neck support while sleeping,
dogs with hip,
elbow or joint conditions that cause pain.
Pros
great preventative measure to stop development of various joint and skeletal conditions
provides pain relief for dogs with preexisting conditions
lots of support and structural integrity
ease of access for dogs with reduced mobility
easy to wash or clean
water resistant and tear resistant
supports and promotes healthy breathing and sleep patterns
Cons
while this bed is highly water resistant
it is not entirely water-proof
Check price
The Big Barker Waterproof Dog Bed is an orthopedic mattress that's designed for large dogs who are tired of settling for subpar products. The tough mattress provides plenty of elevation, and the raised bolster at the head gives your dog the neck support they need to drift off comfortably.

The micro-suede cover is completely machine washable and soft to the touch, so that it feels just as good as it looks. The slim, unobtrusive profile and modern design combine to make it a good fit for dog owners who don't want an unnecessarily bulky dog bed cluttering up their home's valuable space.

Perfect for:
very large dogs,
very heavy dogs,
owners who are tired of smaller or weaker beds,
dogs who need plenty of support while they sleep.
Pros
attractive design
low profile
soft fabric
water resistant
slim profile and unobtrusive design
sturdy enough to support large or heavy breeds of dog
provides proper spine and skeletal support
removable layer for an easy clean
ten year warranty ensures continued provision for all your dog's needs
Cons
if your dog is prone to nesting or shredding
this bed is not tear resistant and may show signs of damage following repeated exposure to teeth or claws
Check price
The name might be a little quirky, but this dog bed is a tough, no-nonsense bed that provides plenty of water protection beneath its fun exterior. With a fully waterproofed lining both on the flat cushion part of the dog bed and the raised bolsters, the Majestic Pet Poly-Cotton Sherpa Bagel Dog Bed can handle any spills or leaks that may cause an issue for lesser products.

The polyester stuffing provides support for your dog's spine, joints, and muscles without being overly stiff. The dog bed itself is fully machine washable, so you won't even have to remove the cover to clean it!

Perfect for:
small to medium dogs,
dogs who like to change positions while sleeping,
owners who want a quick clean.
Pros
cute
attractive design
doesn't take up a lot of space
easy to clean without having to remove any covers or linings
waterproof lining throughout the bed to prevent any leaks
high quality materials
made in the USA
compact and easy to move or store
available in a wide range of colors for home design integration.
Cons
because of its lush outer lining
you may notice that this bed attracts a little more dirt than some of its less luxurious counterparts
so clean it regularly!
Check price
Majestic Pet Product's Yellow Links Large Round Indoor/Outdoor Pet Waterproof Dog Bed is another great choice if your dog's been feeling a little cramped around the house. The dog bed provides lots of space for them to stretch out while still enjoying the support that the High Loft polyester filling provides.

The seriously waterproof outer layer zips closed, so it's easy to either wipe clean or remove entirely for a more in-depth clean. You also have your choice between several different colors, so it should be easy to find a bed cover that fits perfectly with the decor of your home.

Perfect for:
large dogs,
dogs who like to chew or shred,
dogs who alternate between sleeping inside and outside,
owners who prefer versatility.
Pros
great choice for large dogs
sturdy outer lining
waterproof and tear resistant
high quality interior filling
machine washable cover
removable slipcover comes in a wide range of colors
attractive design
low profile and relatively small footprint
soft and comfortable for older dogs and younger dogs alike
extremely durable weave on outer layer
Cons
if your dog is a particularly heavy breed
you may notice some sinking after periods of extended use
so be sure to fluff the bed from time to time
Check price
As the name might suggest, the Kurgo Loft Wander Waterproof Dog Bed is a fantastic option for dogs who are out and about most of the time. It's lightweight and easily portable, and it rolls down into an easy-to-carry, easy-to-store compact size.

When fully opened, the Wander Dog Bed is waterproofed on both the top and the bottom, so that you won't have to worry about water seeping in from beneath. In addition, the bottom is coated with a nonslip layer of texturing, and the top is woven from a rip-resistant fabric that ensures the dog bed can handle lots of wear and tear.

Perfect for:
outdoor dogs,
dogs in wet climates,
dogs who like to explore the great outdoors with their owners.
Pros
super portable
easy to break down and move
waterproof treatment on both top and bottom
protects against any spills or leaks below the surface
compact design
nonslip coating on bottom of bed protects against movement and provides security
attached pillow and external pockets for extra storage and added comfort
tear resistant mattress
Cons
the handle and closure straps are particularly vulnerable to chewing or pulling
so make sure you keep this out of your dog's reach when it's not actively being used! In addition
some dogs may not like the rough texture
Check price
If your dog likes soft beds that feel a little bit like sleeping on a cloud, the SPORT PET Designs Large Luxury Waterproof Pet Bed may be your best bet. Despite its lush appearance, the SPORT PET bed is protected by a waterproof layer between the shaggy outside and the soft foam inside.

In order to clean this dog bed, just remove the outer layer and toss it in the washing machine! The important thing with any dog bed is ensuring that the inner mattress doesn't attract moisture or start to trap any liquid, and the waterproof lining does exactly that!

Perfect for:
old dogs who need a little extra padding,
young dogs who like to cuddle,
owners who want to keep their couches clean.
Pros
super plush and extra comfortable
luxurious outer lining for a better night's sleep
easy to wash outer layer
inner layer wipes clean with a wet cloth
matches nicely with interior design
outer layer zips in and out
traps dog hair to reduce shedding around the home
water resistant
Cons
as with other water resistant beds
the outer layer is not fully waterproof
so make sure you remove and clean it quickly after an accidental spillage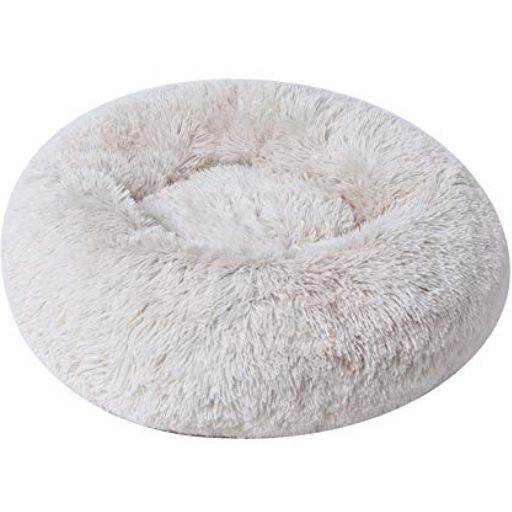 Check price
Originally designed for both cats and dogs, the BinetGo Faux Fur Cushion Dog Bed is a small, compact, waterproof dog bed that saves plenty of space around the house while still making sure that your dog gets the comfort and support that they need for a good night's sleep.

The faux fur lining makes this dog bed extra soft and comfortable, while the sturdy memory foam mattress underneath provides enough structure that dogs who suffer from joint or muscles conditions will still feel right at home. The waterproof outer layer of this dog bed unzips for a quick and easy wash whenever you need a quick clean.

Perfect for:
small dogs,
dogs who enjoy the finer things in life,
owners who don't have a lot of extra space,
owners who like to travel,
dogs who have trouble sleeping in the back of the car.
Pros
nonslip coating along the bottom for a secure grip
soft outer lining for extra comfort
extremely lightweight
fits in small spaces or in car seats for napping on the go
easy to clean
water resistant outer layer
solid foam mattress provides structure and support
gentle on joints
Cons
the soft faux fur exterior may encourage shredding or chewing
and you may notice a faint chemical smell upon arrival
Things to Consider Before You Buy a Dog Bed
Obviously, the most important factors when it comes to picking out a new dog bed are comfort and convenience. However, there are other issues that you'll need to take into account. Some of these other factors include:
Cost
Before you decide on any dog bed, decide how much you want to spend and stick to that budget. You may also want to take the lifespan of the bed into account before you make any purchases. In other words, if your dog tends to be a little bit rough on their beds, you may want to look for a high-quality but still affordable option rather than constantly having to replace an expensive model.
On the other hand, if your dog suffers from sore joints or spinal issues, you may find yourself having to spend a little bit more than if you're just looking for a run-of-the-mill bed where your furry friend can rest their head.
Size
This may seem like a no-brainer, but make sure you get a dog bed that fits your dog! If you have a small dog, there's no point in getting a bed that takes up half of your floor space, and a large dog will feel cramped and uncomfortable on a bed designed for a smaller breed.
You may also want to consider the amount of space you have available in your home. Make sure your dog bed fits your home and your dog in equal measures in order to make sure you've found a dog bed that fits your lifestyle.
Appearance
It may sound shallow, but appearances really do matter. Look for a bed that you're going to feel comfortable seeing for a long time. If you don't like the look of a bed before you buy it, you're certainly not going to like it more after it's arrived at your home, so go with a good design!
Frequently Asked Questions
It's perfectly normal to have a few lingering questions before investing in a waterproof bed. If you're still mulling over some of your options, take a moment to check out our list of frequently asked questions and the answers that go along with them! If you have any other questions that we haven't covered, feel free to drop us a note in the comments below so that we can help ease your mind.
What is a waterproof dog bed?

Simply put, a waterproof bed is any bed that repels or otherwise resists water or any other liquids. Some beds may be fully waterproof, while others may only have a significantly higher water resistance than traditional dog beds. The level of waterproofing required should depend on your dog's specific needs.

How much do waterproof dog beds cost?

A high-quality dog bed can cost anywhere between twenty and a hundred dollars. Outdoor dog beds tend to be a little bit more affordable, but the average price should still land somewhere in that range, no matter if it the bed in question is an indoor or outdoor dog bed.

How do I maintain a waterproof bed?

If you're looking for an easily washable dog bed, a waterproof bed is a great place to start. In general, you'll either have to wipe the bed down with a wet rag or else remove the outer layer on a covered dog bed and toss it in the washing machine.
Barking Up the Right Tree
Ultimately, no matter which bed you prefer, it's hard to go wrong with any of the options on our list of dog beds. However, for us, the clear winner is the Pet Fusion Premium Dog Bed. Compared to the other options on this list, it provides the highest amount of benefits for the most affordable cost.
Top Pick
The Pet Fusion Premium Dog Bed is a great fit both for your dog's comfort and your own busy lifestyle. Because it was designed by dog lovers and for dog lovers, the Pet Fusion option ensures that your dog will get the support they need for a good night's sleep.
Moreover, the Pet Fusion bed is the perfect choice for pet owners who need to keep their home clean without wasting a lot of time on exhaustive cleaning processes. Simply wipe your dog's bed clean or remove the outer layer for a quick and easy wash, and your dog's bed will be back to normal in no time at all.
Because of its comfort, practicality, and overall suitability for the modern dog's lifestyle, the Pet Fusion Premium Dog Bed is our favorite waterproof bed option.