People who truly love their dogs want a comfortable place for them to rest and stay secure. But they don't appreciate the industrial look offered by most plastic or wire kennels. These don't mesh at all well with most living room decor.
This is why most kennels get hidden in bedrooms, basements, or laundry rooms. And this is why dogs are unhappy. Dogs are pack animals. They want to be with their alpha leader–you. If they're away from their owners for a substantial part of the day, they get whiny and irritable.
Fixing this ongoing problem with kennels can go a long way towards relieving the anxiety dogs experience when they're away from their owners.
Fortunately, manufacturers nowadays are marrying the functionality of dog crates with the handsome look of fine furniture with dog crate end tables. These tables look like they belong right there, next to your sofa. They work well in any formal sitting area.
Most people who live in small apartments find themselves dealing with a serious space crunch. They have no room at all for separate dog crate furniture in a bedroom or bathroom.
This problem is far worse for people with two or more dogs. They'd appreciate being able to crate their dogs in the living room and to do so in a way that doesn't detract from the style of that room. Dog crate end tables are especially useful in that regard.
Quick Buyer's Guide to Dog Crate End Tables
What Is a Dog Crate Furniture End Table?
A few years ago, in response to strong interest by dog owners, manufacturers began modifying dog crates to turn them into beautiful, functional pieces of living room furniture or Dog Crate Furniture. These stunning pieces also serve as workable tables for lamps and display areas for photographs and heirloom pieces, thus solving more space issues.
At the same time, these Dog Crate Furniture End Tables continue to serve dog owners well as safe places to let dogs sleep at night or relax when those owners are not home.
A dog will appreciate snuggling up in these pieces of dog crate furniture, especially if she loves the feel of an enclosed space. She'll feel secure being with you when you're entertaining company and will also feel well protected in a crate just her size.
Why Do Owners Choose Dog Crate Furniture Tables?
Double use is highly appealing. Think of it this way. Your dog is sleeping inside a table, not just a kennel. On top of the table rests things humans value. But the dog doesn't care. She has what she values and needs.
A dog crate end table frees up space in the home that would have been otherwise used for a separate, ordinary dog crate.
Dogs are social creatures and enjoy being where people are. They like looking at visitors and owners while feeling secure in their own little home.
When Not to Buy a Dog Crate Furniture
Wooden Dog Crate Furniture end tables are not a good option for larger, more rambunctious dogs. They also aren't good for puppies who love to chew.
Why Buy a Dog Crate Furniture piece?
But, if you have a smaller, calm dog who has outgrown her chewing days, dog crate end tables will work fine. Your dog will enjoy having time to herself while being able to look out at you when she wants to.
10 Best Crate Furniture End Tables Reviews
Check price
This dog crate doubles as a real end table. You can place it next to a chair or a sofa in your living room and it will blend in easily with your decor. If the color doesn't go with the rest of your furniture, you can easily repaint it to suit.

Its tough wood and plastic structure will prevent it from ever warping or cracking. It's made out of EcoFlex, recycled material that's eco-friendly and dog friendly. Its spindles and latch are made out of stainless steel. Your dog won't be able to chew through them. And the latch can't be accidentally opened. She'll be safe when you're away for the day.
Key Features
Made from Ecoflex
No tools required for assembly!
Stainless steel tubing
Available in many sizes and colors
Pros
Very Elegant
Comfy for dogs
Very secure
Available in multiple sizes
The extra-large size will house an 80-pound dog easily.
It can be cleaned easily with a mild detergent. It has a removable tabletop that makes it even easier to clean. But the crate will not fold down.
Sustainable materials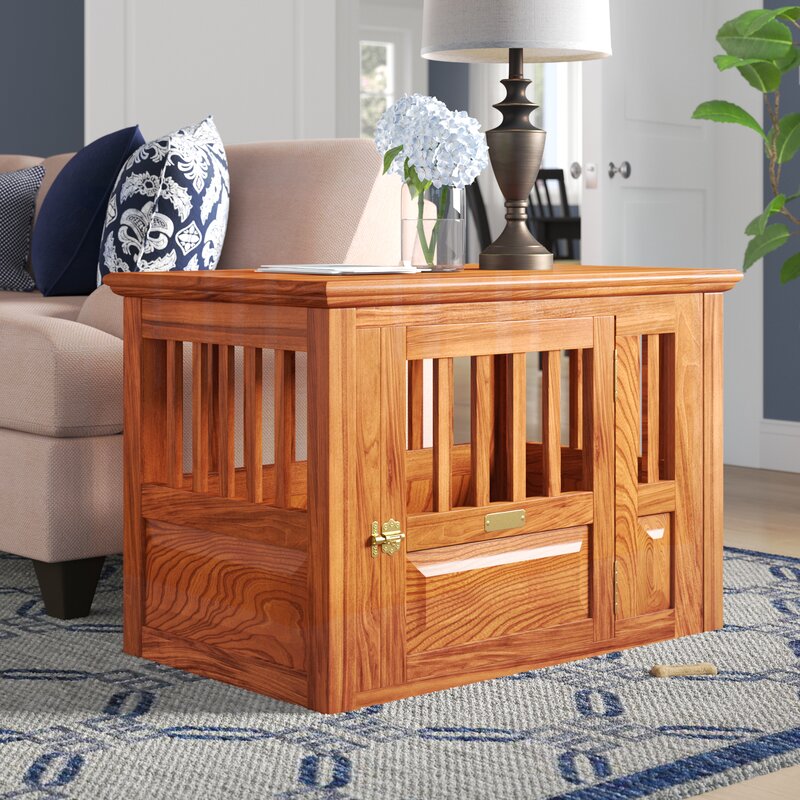 Check price
This Dog Crate Furniture End Table is built out of ash wood. It will serve you well as a solidly built end table with plenty of room for lamps and plants on top.

It comes with a dog pad that is sized perfectly for the space. Your dog will be comfortable with a sizable ventilation window letting in plenty of air.

You can choose between side and front opening models, whichever one fits your furniture arrangement.

It's designed to be rot and rust-resistant. And the top is removable for easy cleaning and retrieval of toys and blankets.
Key Features
Made from Ecoflex
No tools required for assembly!
Stainless steel tubing
Available in many sizes and colors
Pros
Very durable and it will last for years.
It's flexible. It can be opened from the side, top, left, or right. The bars can be removed if your dog is the calm type who doesn't need them.
The large model is roomy enough for a 100-pound dog.
Very comfortable home
Cons
A bit Pricey
It's also quite heavy, so it's not appropriate for use as a travel kennel.
Check price
This small indoor dog house is large enough for a small or medium-size dog. The Dog Crate Furniture End Table has a charming barn-like design made out of wood. This may be an issue if your dog likes to chew.

Cleaning is a breeze with a removable bottom and an iron wire door that can be securely latched. But the top will not open. This may make it more awkward for cleaning.

Cushions on the legs will protect your floor from scratches.

Cut-out handholds on either side permit easy lifting and additional ventilation.

The house is super lightweight and is easily assembled with a pre-drilled hole.

The drawback is it's unusable for a large dog. She would be extremely uncomfortable in this crate end table.
Key Features
Made from Wood
For dogs to 30 pounds
Available in Light bluish gray color
Comfortable Dog Crate Furniture End Table
Pros
Good build quality
Easy to maintain and clean
Fits well in any decor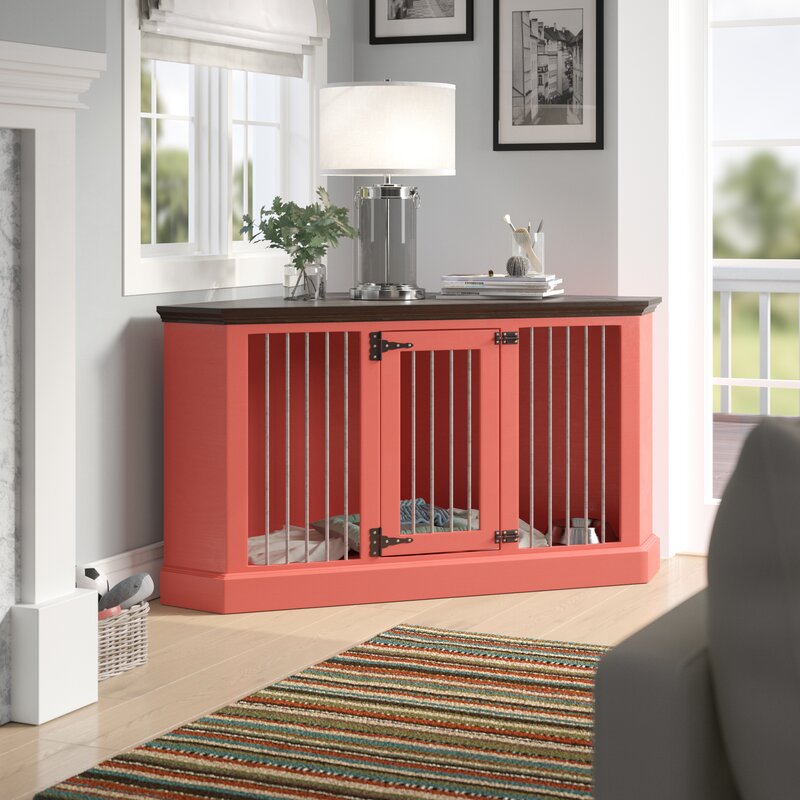 Check price
An end table dog crate may not be enough for any but a small dog. In that case, try a credenza. A credenza is longer for sizeable dogs. This crate fits neatly into a corner in any room.

This Dog Crate Furniture End Table is built out of hardwood birch with steel rods and has a rustic look to it with a barn door-style entrance. Hinges keep it on track. It also has an attractive planked top. There is plenty of room to display plants or special photos on it.

But, even with the credenza length, large dogs will not fit into this crate.
Key Features
Solid wood Dog Crate Furniture End Table
Available Medium Size
Available in many colors and finishes
No Assembly Required
Pros
Very stylish
Good for corners
Solid quality
Check price
This handsome Dog Crate Furniture End Table serves as a 2-in-1 dog crate offering a handy multifunctional design for dog owners. It doubles as a four-panel gate.

Simply disassemble it and use the sides to keep your dog out of rooms where she doesn't belong. You can adjust the sides depending on how many of them you need to block access to hallways and rooms.

It's covered in wood veneer, making it an attractive side table in your living room.

This Dog Crate Furniture End Table is easy to set up. No tools are needed.

Unfortunately, you can't use it for a training crate. Puppies can easily escape from it by chewing on the wood. You'll have to get a separate trainer for your puppy.
Key Features
Made from Wood
For dogs up to 45 pounds
Available in Small Size
Brown Color
Pros
Multi-functional design
Can be used as adjustable gate or kennel
Good for medium breeds
Check price
This pet crate end table will give dogs a private space to relax. Its strong lockable gate will protect your dog when you're away from home.

Its solid wood construction gives this end table dog crate years of durability. It's chew-resistant and easily cleaned. It's reasonably priced and gets the job done. Set knick-knacks, lamps, and plants on top just as you would on any end table.

You need not worry about the health of your dog in this kennel. The open side slats permit plenty of airflow for your dog's comfort.

This handsome piece of furniture can serve as a crate trainer. Its solid wood construction lends itself to years of pet-safe use.

However, if your puppy tends to scratch and crawl, she can damage the crate. Also, you will have to buy a separate sleeping pad. The floor is too uncomfortable for a puppy or dog to sleep on.
Key Features
Made from Polymer composite
For dogs up to 50 pounds
Available in Sizes: Small, Medium, Large, Extra Large
Espresso Color
Pros
Fit in well into interior
Gate is Lockable
Easy clean and maintain
Cons
Some Customer service complaints
Check price
This dog crate end table is built for durability and longevity

Its solid pine wood is light in color and allows it to blend in nicely with living room furniture as an end table. There is plenty of room on top for knick-knacks and plants.

The Dog Crate Furniture End Table is built solid. A chewer would have a hard time chewing her way through the bars. Its well-placed hinges allow for spreading out the sides, lowering the floor in place, folding the top over and on, and screwing the lock to the front door.

Hinges also permit easy folding and storage when the crate is not in use. Either way, setting up or taking down will amount to about 5 minutes of work.

The crate's latch is much more rugged than the traditional slide and hook latches. Your dog will be safe in this crate when you're away from home.

If you want to use this crate as an outdoor doghouse, it's plenty tough enough to handle the elements.

Dogs who love to sleep in cozy places will love its enclosed design. Ordinary size dog cushions will easily fit into the space. You can also remove the top if you don't need the crate as an end-table and if your dog appreciates openness.
Key Features
Solid fir wood Dog Crate Furniture
No tools required for assembly
Strong, lockable door
Can be used indoors and outdoors
Pros
Hinged to unfold in 1-step assembly
Collapsible for easy storage
Top can be opened for easy cleaning
Door hinges can be taken off to remove door
Comes with tray
2 places for tray--on or underneath floor
No odors except for pleasant wood smell
Sturdy for pets up to 45 lbs.
Cons
Some complaints about strength
Raw wood requires painting or staining
Check price
This Zoovilla dog crate furniture is a beautiful, well-made piece with a framed panel design. This attractive piece of white furniture with black spindles goes beautifully with any home décor. There's plenty of room on top to display small, potted plants.

Its durability makes it well worth the higher price. But it is designed strictly for indoor use.

It's a large piece of furniture, a German Shepard will have plenty of room to curl up in. You can get a soft mat for your pup at any pet store. It'll fit nicely in the space.

The Dog Crate Furniture End Table comes well packaged in shrinkwrap and Styrofoam. It won't suffer from scratches and breakage during shipping.

Everything you need to assemble it is included, including an Allen wrench.
Key Features
Made out of engineered wood
Spindles made from alloy steel
Easy to assemble
3 doors for easy entrance and exit
Magnetic latch
Pros
Framed panel design
Removable plastic tray for easy cleaning
Everything is pre-drilled
All hardware is included
It takes 45 minutes to an hour to assemble
Cons
Some complaints about door strength
No floor
Check price
Your dog will feel safe and comfortable in this handsome piece of furniture when strangers come to visit or when you're gone. It's painted brown, which makes it fit in with any decor. It looks like it belongs in your living room, not in your laundry.

The double-door design features an anti-chewing iron cage with a solid iron latch.

The large wooden top is strong enough to hold 200 lbs., making it perfect for use as a base for a large potted plant. The top is removable for easy cleaning.

You can buy a foam mattress from any pet store that fits perfectly inside.

This dog crate is suitable for dogs 25 lbs. or under.
Key Features
Comes in your choice of small, medium, and large sizes
The large wooden cover is removable for easy cleaning
Anti-chewing iron bars with solid iron latch
Double-door design facilitates easy entry and exit
Removable tray for easy cleaning
Pros
Made out of tough MDF board
Strong, lockable doors
Safe and easy to assemble
Detailed instructions included
Requires no tools for assembly
Reasonably priced
100% quality assurance for 1 year
Cons
Some complaints about broken pieces
New Age Pet Table
Check price
Does your dog enjoy snuggling up under your nightstand while you sleep? Then this is the dog bed for you.

This cozy dog bed does double-duty as a nightstand in your bedroom, with plenty of room on top for your lamp, books, and eyeglasses. There's more room for things on the second shelf. Its attractive espresso color will allow it to go well with your bedroom décor.

You can keep your dog close to you while you sleep without her sharing your bed. Puppies and adult dogs love sleeping in this bed.

It's made out of EcoFlex, an environmentally friendly plastic. This material will allow your dog bed to outlast most other brands.

If your dogs love to chew, this is the bed for you. Its plastic is tough. Dogs don't like chewing it.
Key Features
Comes in your choice of small, medium, and large sizes
The large wooden cover is removable for easy cleaning
Anti-chewing iron bars with solid iron latch
Double-door design facilitates easy entry and exit
Removable tray for easy cleaning
Pros
It holds a medium-sized dog bed
Tough material--the plastic/wood polymer won't warp, crack, or split
Does not absorb moisture
Pad has a removable cover for cleaning
1-year manufacturer's warranty
Cons
Pad is thin and hard
A little pricey
Things to Consider Before Buying a Dog Crate Furniture
You may scan through online catalogs displaying dozens of these Dog Crate Furniture pieces. Perhaps you'll find some more aesthetically appealing than others. But consider other factors before you buy.
Size
Make sure there's a good fit between your dog and the Dog Crate Furniture piece you have your eyes on. Measure your dog. Make sure there's at least 2 to 4 inches of extra space for the dog's length when stretched out and when standing.
If you have a puppy, know how large she'll become when she's full grown. Get an end table crate that will accommodate her growth. You don't want to have to keep on replacing kennel after kennel while she grows.
Dog Personality
Consider your dog's training and personality. If she's crate trained, she'll be ready for dog crate furniture end table. But if she likes to chew or is nervous, a dog crate table may not be your best option. Dog crate tables are generally made of wood and don't last long with a chewer or an anxious dog.
In those cases, consider buying your puppy a training kennel built out of tough plastic instead. Wait until she's grown and has settled down before investing in a dog crate end table. Make sure your dog is well trained to crate. Few of these dog crate end tables will serve as good trainers.
Comfort
Most dog kennel furniture does not come with soft bedding. Choose bedding that will fit the crate and your dog. Test out your bedding. Find out if your dog enjoys lying on it.
Well Ventilated
Make sure any dog crate furniture end table you buy is well ventilated. You want your dog to be comfortable, and eager to use the crate. If the dog crate furniture end table isn't well ventilated, your dog will get hot and will want to leave.
Keep it clean
Don't choose a dog crate furniture end table thinking that it will be a good place to leave food and water for the dog. Things will get messy in a hurry. Your dog will need to go outside more often. Crates are for resting, not eating and drinking.
Portability (not portable)
If you need a travel crate, bear in mind that most furniture dog crates are not portable. None of the ones in this review can serve as travel kennels. If you need to travel with your dog, you'll need to invest in a separate kennel.
FAQ
How do I choose a dog crate end table?

Base your decision on what kind of dog you have. Your dog's size, personality, and habits should guide you to the best crate end table for you. Also, consider the furniture style crates to match your living room. You'll want a dog crate that blends in and doesn't stick out. You'll also want a piece that fits the space well. A credenza may work out better for you than an end table.

How durable is dog crate furniture?

The best crates are as durable as fine furniture. They will last you for years. There are some less expensive ones. They may do well for your dog if she's calm and not a chewer. If you're on a tight budget, these will be your best bet.

What is a dog crate end table made out of?

Some are made out of solid wood, like a good quality piece of furniture. Others are made out of wood laminates, MDF, and polymers. Spindles and latches are almost always made of metal.

What are the advantages of end table style crates?

They are handsome pieces of furniture. They save room. They do double-duty as dog crates and end tables. The owner doesn't have to find space in the house to put a separate kennel.

What things should owners pay attention to while searching for a dog crate end table?

The size of the dog crate furniture end table should be somewhat larger than the size of the dog when the dog is stretched out and relaxed. The crate should also be several inches taller than the dog when the dog is standing.

Check the latch. Make sure it can secure the door. Check the construction. Will it last through years of heavy use?

Study the layout of where you want to place the dog crate furniture end table. Does it match that room's decor? Does it fit in the space?
Announcing the Winner!
We love the crate end table built by New Age Pet. But why?
It blends in. It's a handsome piece. It doesn't scream "dog kennel." It really does look more like a dog crate furniture end table than a dog crate.
It's also a solid piece. It's made out of EcoFlex, a recycled combination of polymers and wood fibers, which makes it eco-friendly. It'll stand up to what your dog can dish out. EcoFlex is a non-toxic material that's easy to clean.
Spindles and latches are made of stainless steel. These are tough and will keep your pet safe. The larger-size pieces feature two latches, making it harder for determined dogs to escape. These sizes are large enough for truly sizeable dogs. Smaller sizes are perfect for small and medium-size dogs.
Assembly doesn't require tools or exceptional carpentry skills. One or two people can handle the job with ease.
The three choices of colors are attractive: russet, espresso, and antique white. At least one of them will likely go with your living room décor. If not, you can repaint the crate to suit the style of your other living room furnishing.
The whole idea behind the design and construction of crate end tables is to create a lovely ambiance for you and your visitors while giving your pet a comfortable place to rest and get away from it all. New Age Pet has succeeded in achieving this goal. We highly recommend this product for owners of pets that will benefit from this style of dog crate.