Every dog owner has dealt with the annoyance of having to take your pup out in the rain.
Your poor dog ends up wet and cold and you get to deal with that wet dog smell. You may even find your dog refuses to go outside in the rain.
If this sounds familiar, you may want to consider buying a dog umbrella.
This will help keep your dog dry and may make a reluctant dog more willing to go outside on rainy days. Read on to learn more about the doggie umbrella and the benefits as well as a buying guide.
Does My Dog Really Need an Umbrella?
You may be wondering why you would bother buying an umbrella for dogs. After all, most dogs are happy to be outside rain or shine.
Besides issues with that wet dog smell, many dog breeds don't handle getting wet or cold very well. For instance, Chihuahuas tend to be sensitive to the cold and may get sick if they have to walk in the rain.
Some breeds also have a coat that you don't want to get wet. Other dogs may just not want to potty while they are getting hit by rain. This can mean you either end up walking longer in the hopes your pup finally goes, or your dog waits until you get home and has an accident indoors.
This is obviously not ideal, so a doggie umbrella can help this problem. If this sounds like an issue you've faced, read our reviews to learn more about dog umbrella options.
The Best Dog Umbrellas Reviews
Check price
This dog umbrella with leash is meant for smaller breeds and puppies. It features a C-shaped handle that is attached to a typical umbrella shaft. The leash attaches under the umbrella.

There is also a clear umbrella so you and your dog can see each other. This dog umbrella is very easy to put together and open. The handle is adjustable, so you can pick the length. Just remember that this handle is made of a solid material so it won't bend. The construction of the handle is much like a regular umbrella.

This does mean it can be weak, particularly with larger dogs or with puppies.
An energetic puppy will put more strain on the handle, making it more likely to break. The best feature is how close the umbrella is to the dog.

This dog umbrella makes it easier to keep the rain off of your dog and is of the best dog umbrellas on the market!
Pros
C-shaped handle for hands-free use
Clear umbrella so you can see your dog
Clip for waste bags
Cons
The handle can be fragile
Is only for dogs under 19 inches long
Check price
This is a large umbrella meant for use on the beach or at sporting events as a shelter from the weather. This dog umbrella has an 8-foot span so it covers plenty of space. It has a sun protective coating and mesh windows so you can get a breeze.

It has a narrow pole to make it easier to sink in the sand. The frame helps hold it open and the stakes can secure it in strong winds. While this is meant for people, you can easily use this for dogs. Many dogs with short fur or no fur or at risk of sunburn.

You can put your dog under here so it can enjoy the outdoors without getting burned. This dog umbrella can also make a sheltered space for puppies or other small dogs to play that will keep them safe from wind or rain.

You could set it in one spot so your dog has a sheltered spot to go potty if it tends to fuss about the weather. This can't be used for walks, since the large size makes it unwieldy. The large size catches even small breezes and can have it blow away or flip inside out. For sport it's one of the dog umbrellas to look into.
Pros
An 8-foot canopy gives plenty of coverage
SPF 50 to protect from sunburn
Stakes help secure it in the wind
Mesh windows help allow in a breeze so it stays cool
Cons
Can't be used on a walk
Catches a lot of wind so it can blow away or break if not turned away from the wind
Check price
This is another leash umbrella for small dogs. It will fit dogs under 20 inches long. It has a typical umbrella handle so you will need to have a hand on it. The umbrella itself is clear and has a 30-inch diameter.

This dog umbrella with leash has a small chain leash to attach to your dog's collar or harness. The handle is a typical umbrella shaft. This means it might be fragile, so keep an eye on it. Some dogs may dislike the chain leash, but the manufacturer claims it can be replaced.

Try a cloth leash if your dog is reacting poorly. Be sure to use a short leash so your dog stays under the umbrella. The biggest issues are build quality and dogs being afraid of it. For the fear, you just need to carefully train your dog so they aren't frightened of it. A few walks with lots of treats and praise can help your dog relax.

It may not work for all dogs, however. The build quality is the real issue. If you just get light rains without winds, this might be useful. If your area gets heavy winds and storms, this likely won't be strong enough. So, it not among the strongest dog umbrellas on the market, but it's very useful.
Pros
Clear dog umbrella lets you see your pet
A short leash keeps your dog under the umbrella
Cons
Poor build quality can break easily in strong winds
Only works for small breeds like Chihuahuas, Yorkies, etc.
Check price
Lesypet dog umbrella is another option for anyone who owns a small dog, under 20 inches long. It has a typical umbrella handle in J shape with a typical umbrella shaft. It has a stainless steel frame. At the end is a clear dog umbrella and a short-chain leash.

The umbrella is 28.3 inches in diameter, and the handle is 20 inches long. The chain leash is just under afoot. Since it is small and stiff, you need to consider if this is long enough for your dog. Dogs who like being at the end of their leash will likely end up getting wet.

The Lesypet dog umbrella is relatively easy to set it up. It is pretty standard for a pet umbrella, but it has serious problems. The construction of this is very poor. While the handle is attached with screws, the leash is held on with glue. This means it can fail and your dog is loose. If it breaks with the umbrella still attached, your dog will likely end up very afraid of umbrellas.

The construction has supposedly improved, but you should check carefully if you order it. It is one of the cheapest options on the list, so it might be the one on your budget. Just remember that you get what you pay for.
Pros
Great for small dogs
Budget option
Clear umbrella to see your dog
Comes with leash
Stainless steel frame
Cons
Only for small breeds
Dogs can still get wet
Poor construction means your dog may get loose and be in danger
Check price
This dog umbrella is a small umbrella that works best with small breeds. Since it is 28.3 inches in diameter, it works best for toy breeds like Yorkies and Shih Tzu as well as puppies. The handle is 23.2 inches and has a J-shaped handle.

If your dog likes being further away from you to explore or go potty you may find this too short to keep the umbrella over your dog. The chain leash is a foot long, so your dog may be able to peek out and get wet. The dog umbrella is clear, so you and your dog can see each other with ease during your walk.

The shaft can be weak since it is identical to an umbrella shaft. This may also frighten your dog because the chain is so short. You can try training with treats and praise to help your dog relax.

You could also try a longer leash, but it might make it harder to keep the umbrella over your dog. It can be a bit short as well, so if you're taller, you may need to stoop to use the leash. It is a decent option for the price. Decide got yourself if this one works for you and your dog.
Pros
Clear umbrella so you can see your dog
Great for small dogs
Comes with a chain leash
Cons
The short-chain leash can spook dogs
The Umbrella shaft is fragile
Check price
This is a small umbrella perfect for small pets. It has a 19-inch diameter, so it will only work for small dogs and puppies. The nice part of this is that it is solid so it can also protect your dog from the sun.

This is great for dogs that are prone to sunburn. The dog umbrella also has a reflective lining. This means you and your dog will be visible even on rainy nighttime walks. It has a small chain you can attach to your dog's collar or harness. There is also a loop so you can use your own leash if your dog doesn't like the chain.

You can also use a longer lead if your dog doesn't like how close the umbrella is. Since you can't see your dog, it can also be difficult to control your dog. They may also not like having something solid over them. The fabric also isn't good for heavy rain, since it can seep. It is best as a sunshade for sensitive dogs. The handle also is a bit short. That being said, it's a great budget option among other dog umbrellas on the market.
Pros
The solid umbrella can protect against the sun
Reflective for safety
Can easily lengthen the leash
Cons
Can't see your dog
Bit fragile
Handle is short
Check price
This is another option for small dogs. It has a diameter of 28.3 inches, so it will only work for very small breeds. The leash length is 12 inches, so if your dog didn't like another version for being too close, they won't like this.

It also wouldn't be easy to change the leash, so you are pretty much stuck with the included leash. It is clear so you can see what your dog is up to during your walk. The total length is 38 inches, so you should consider if you can use it without slouching. If your dog tends to pull, this can be an issue since they may not be covered or can break the leash. You can detach the handle for easier storage.

This might make the handle more fragile, so be careful. Owners have noted that the screw handle has broken off on a single walk. Many dogs will also dislike the umbrella hanging over them. You can train them out of it with treats and praise. It should help to keep wind, rain, and snow off your pup during walks so long as you can keep it over them.

In strong winds, this dog umbrella may break or just allow your dog to get wet. It works best when the rain is coming straight down.
Pros
Clear dog umbrella so you can see your pet
The handle can detach for storage
Attached chain leash
Cons
Can't change the chain
Handle is fragile
Check price
This is a light umbrella for your dog. It has a clear umbrella so you can see your dog easily during your walk. The umbrella has a diameter of 29 inches, so it is slightly larger than other umbrellas. However, it is still only good for small breeds.

The handle on this dog umbrella is 26 inches so be sure to check if it would be long enough for a comfortable walk. It folds up like a typical umbrella so it is easy to store with other umbrellas you own. It has a built-in leash hook so you can attach it easily to a collar or harness you could also use an extended to give more space from the leash.

This can help if your dog is nervous about having the umbrella too close or touching them. The issue comes from how flimsy the chain is. It can break if even a small dog pulls. This can mean your puppy is suddenly loose in the rain. This can be dangerous since puppies can be harder to catch.

Strong winds can also flip this inside out or even break it. This isn't good for strong winds. If you live in an area like mine where rain is normally accompanied by strong winds, this will not be very useful and you might want to explore other dog umbrellas options.
Pros
Clear dog umbrella to see you your pet
Lightweight and easy to use
Built-in chain and hook
Cons
Flimsy chain and umbrella
Only good for small dogs
Check price
This dog umbrella is perfect if you're looking for a sunshade in addition to rain protection. The dog umbrella is solid to help give your dog shade on hot days. This does mean you can't see what your dog is doing. This means you might miss then going potty or getting into something.

The dog also can't see you, which might distress your dog. They might also dislike a solid umbrella more than a clear one. The lining is reflective. This means you are more visible during nighttime walks. Keeping yourself visible when it is dark is very important for safety. If your area is like mine and doesn't have a lot of sidewalks, this can really help keep you safe at night.

It includes a chain and hooks to attach any leash or harness you like. This is great if your dog is picky about harnesses. It is only 19 inches, so it will only work for small dogs and puppies of you want them completely covered. The biggest issues are that the fabric allows rain to seep through and the chain is flimsy.
Pros
Good for using as a sunshade
Built-in leash and hook
Reflective for safety
Cons
The flimsy chain that can break if your dog pulls
Dog Umbrella can let rain seep in
Very small so it only works for small dogs and puppies
Things You Should Consider Before Buying a Pet Dog Umbrella
There are some things you should consider when selecting a doggie umbrella. Read through and keep this in mind when you buy an umbrella.
The Size
You need to be sure the umbrella will cover your dog enough. It should cover your dog completely. You will also need to be sure it is long enough for a comfortable walk.
The Dog Umbrella
You should decide if you want a clear umbrella or not. A clear umbrella will let you and your dog see each other. A solid umbrella will also function to protect your dog from the sun.
Sturdiness
The next consideration is how sturdy it is. If your dog pulls, you need a strong leash and umbrella or your dog may escape. With puppies, this is very important since they typically aren't fully trained. You may end up chasing a puppy who thinks you're playing a fun game. This can be very dangerous near roads. You also want to be sure your umbrella won't break in a strong wind. If your area has strong winds, you need a tough umbrella.
Your weather
You should consider your typical weather in your area. If you tend to have rain falling straight down with little wind, you should be given with most umbrellas. If you live in an area with storms and strong winds, you need a strong umbrella.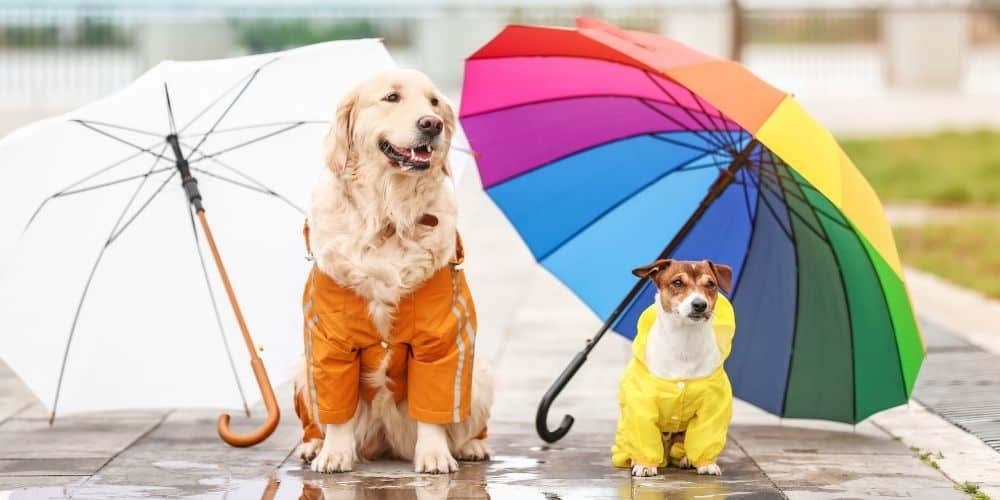 Best Dog Umbrellas – FAQ
What is a pet dog umbrella?
A pet dog umbrella is an umbrella with a leash meant to keep your dog dry in the rain. It can help by letting you not be to carry a leash and an umbrella.
Does a pet dog umbrella come with a leash?
Yes, they typically include a short leash to attach to other leashes or a harness or collar.
Can my dog get sick in the rain?
Generally speaking, so long as you dry your dog off they should be fine. Young, healthy dogs won't have a problem. Visit this site to learn more.
What about an umbrella for large dogs?
There aren't many good options for large dogs. You can use a large human umbrella and carry it to keep your dog dry.
Our Winner, Rain or Sun!
The winner of our roundup is the first product, the K&L Pet Dog Umbrella With Leash.
The handle allows hands-free use and it has a convenient place to attach your waste bags. It also seems to be a bit better made than other options on this list.
It will help keep your dog dry while still letting you monitor them. Having a hand free can also allow you to carry your own umbrella. You can also clean up waste more easily with your hands-free.