Usually, dogs are well protected against the cold weather, but there are times when sweaters are necessary. Of course, we love how cute they look while we dress them up, but it's more than that. During winter, their fur is not enough to keep them warm, especially old dogs and pooches with short hair. If they are frequently shivering and uncomfortable during extreme weather conditions, you should consider buying your dog a hoodie or a winter coat.
Lucky for you, we have gone through dozens to find the warmest, most stylish, durable, and comfortable dog hoodies on the market.
Here is our list of the top 10 best hoodies for dogs.
Hoodie Reviews
Check price
Coming in a variety of sizes, ranging from XS to XXL, the Ellie Dog Wear Zip Up Adventure Charcoal Grey Dog Hoodie tops our Best Dog Hoodie list that you can find. It is fashioned from durable cotton fabric, is lightweight, and perhaps the most comfortable sweater for your pooch.

What we loved the most was the adjustable zipper that allows you to fit the hoodie, depending on the body size of your dog. Better yet, this Ellie Dog Hoodie product isn't restrictive to the dog's movement, and it includes cutouts for the potty spots on your pooch negating the need for frequent washings following bathroom incidents.

With lovely stitching and stellar construction, this Dog Hoodie looks adorable. And the small side pocket, which can be used for storage is a plus! It is stylish and is a recommended choice for dog owners or anyone looking to protect the pup's head from cold bites.
Pros
Has a less obtrusive pocket for storage
Stylish, light, and durable
Machine-washable
Insulated for warmth
Cons
A bit pricey
Zipper may slide down when a dog is on the move
Check price
If you are looking at getting a versatile coat for your dog, one that will keep them warm and toasty during the cold months, look no further than the Pawz Road Large Dog Plaid Shirt Coat Dog Hoodie. It is available in a variety of sizes, from XXS to 3XL, which means it can fit most dogs. The button-down design ensures that it sits snugly and stylishly on your dog.

The coat features up to four plaid colors that offer a fresh look for all occasions regardless of the weather. You will love the stitch design that has been reinforced with two front pockets for storage. Have we mentioned that the hood is detachable and is equipped with a drawstring instead of a zipper? That's right! It also incorporates an inner layer of fleece fabric for insulation during cold weather.

Dog owners fancy the versatility, the durability, and how comfortable their dogs look in them. The only thing you should mainly be concerned about is the sizing. It is not often compatible with US sizes. This dog hoodie is definitely a runner-up to the best dog hoodie on the list.
Pros
Features reinforced stitching
Detachable hood
Fits large dogs
Inner layer for extra warmth
Cons
Not compatible with US sizes
Check price
If you are looking to rick matching hoodie colors with your dog as you walk about the neighborhood, then Zack & Zoey Polyester/Cotton Basic Dog Hoodie will make your dreams come true. It is available in 11 colors, all with a style akin to your everyday hoodie with ribbed sleeves, kangaroo pockets, and a laid-back hoodie.

Available from the size XS to XXL, this Zack Zoey Basic Hoodie incorporates a cotton and polyester design for better comfort and an enhanced lifespan. The ribbed sleeves allow for a comfortable fit, keeping the sweater from restricting the dog's movement.

Although dog lovers love how adorable this hoodie looks, it might not be the best choice if you are looking for winter cloth. And apart from making it a bit difficult to use with a harness, it tends to run small. Ensure that you know the right measurements of your dog before making a purchase.

This Zack Zoey basic hoodie has well deserved spot in the best dog hoodie list.
Pros
Available in many colors
Looks exactly like a real hoodie
Machine-washable
Cons
Not the best for extreme cold
Difficult to work with a harness
Check price
Have you a Great Dane that would love to dress in a camouflage-style Dog Hoodie? Have a look at the Casual Canine Camo Hoodie. It is made of a poly-cotton material with an interior of fleece for warmth during winter. Of course, it can fit other dogs as well since it is available in XS to XXL, and in up to five beautiful colors.

The Dog Hoodie boasts a ribbed sleeve and hem, but the edges of the sweater have also been designed to remain snug and aid the dog in maintaining body heat. The outside feels rugged, thick like a jacket, and well-stitched. This durable design and the kangaroo pocket elegantly placed at the back adds to its attractiveness and quality.

The Casual Canine Camo Hoodie is easy to care for since its material-make allows for machine-washing. And while it covers the dog from the head to the base of the tail, we highly suggest that you measure your dog's chest at the widest girth to find the right size.
Pros
Made of quality, durable, poly-cotton material with a fleecy interior
Machine-washable
Available in different sizes and colors
Cons
Ribbed sleeves too big for small dogs
Sizing not accurate
Check price
Every dog has to command some respect when you rock around the block right? Well, nothing will make your pooch make a statement than with the SILD Pet Clothes Dog Jeans Jacket Dog Hoodie. It is available in up to six sizes from XS to XL and in different colors as well.

Featuring a denim retro jacket style, this dog hoodie is bound to establish a classic fashion sense for your dog. It is easy to put on, thanks to the button closure and the comfortable interior that promises excellent warmth during winter. This dog hoodie can also be worn during any other occasion, particularly when the dog's fur has been cut. It provides a good level of protection while keeping them comfortable. Buy a dog hoodie to keep your dog warm!

Despite its greatness, however, remember to double-check the size against your dog's measurements. Remember, do not establish the size based on the weight of your canine friend.

Other than that, this could probably be the cutest and best dog hoodie you will ever find!
Pros
Ideal for all type of weather
Comfortable, stylish, and durable
Hood doesn't fall over your dog's face
Will keep your dog warm
Cons
Size may be a bit smaller than you thought
Check price
This pup hoodie is our absolute favorite in terms of looks and how nice and warm it will keep your Doberman. The Bingpet BA1002-1 Security Dog Hoodie is available in myriads of sizes from the XS to XXL and in black, red, pink, and royal blue colors. All these clothes have the word "Security" printed across the back, making your dog such an intimidating figure in your neighborhood.

The sweater is made of a poly-cotton blend just like your favorite hoodie – and you know what that means? It's machine-washable! The hood itself isn't removable, still, it falls back and out of the way. So, you can rest assured that it won't restrict how your dog moves around.

What we also love about this Bingpet sweater are the waistline and the sleeves of the hoodie. They are both ribbed to ensure maximum comfort and snug fits. And despite having a poly-cotton make, the hoodie, according to some dog owners, is surprisingly durable.
Pros
Reasonably priced
Machine-washable.
Beautiful design with ribbed sleeves and waistline for comfort
Cons
The "Security" imprint may peel off
Check price
Although it is a little difficult to put on and off your dog, the DOGGYZSTYLE Pet Dog Cat Clothes Blue Striped Jeans Jumpsuits are worth it. They look amazing, and they transform your pooch into a very cute pet. They are available from XS to XXL, but they look even better in smaller breeds and puppies.

The design of this Dog Hoodie looks like it is a two-piece cloth. However, the elegantly striped shirt is attached to the pants. This should not worry you as the stitching is of high quality and can only come off if your pup is aggressively energetic. Still, the material is soft against your dog's skin and is a decent solution to keeping them warm with a sleek design that presses all the fashion buttons.

That said, we could not exactly determine the neck sizes of these Dog Hoodies, which can be quite a bother, especially when trying to size up your dog. But such is a trade-off compared to its quality and beauty.
Pros
It's machine-washable
Looks exceptionally cute
Made of a durable denim material
Cons
No neck size given
Difficult to get on and off
May not entirely be comfortable compared to cotton hoodies
Check price
The EXPAWLORER Plaid Dog Hoodie easily comes in up to four sizes, ranging from S to XL, which means it is suitable for lots of dogs falling within the size range. This stylish garment is a commendable choice for both indoor and outdoor dogs that are perpetually on their feet. With a snug hoodie like this, you're assured that they are getting the warmth they need.

This Dog Hoodie features a classic British style with a beige plaid pattern designed to bring out the cuteness of your furry baby. It is one hundred percent made of polyester fabric, which is soft to the touch and comfortable to wear. The material can also be washed just like your normal clothes.

Dog owners love the small pocket neatly sewn into the back of the coat. It creates a good space for storing things like snacks as you walk your dog in the park. The hood is also ideal for all weather conditions. One of the best dog hoodies available on the market.
Pros
Has a hole for a leash
Durable, warm, and comfortable
Machine-washable
Has a stylishly unique plaid design
Cons
May run small on some dogs
Check price
The BONDOGLAND Pet Clothes Dog Hoodie is a high-quality garment that features a professional design without compromise on the material. This well-made hoodie for mutts is what you should consider if you are looking at finding a sweater that will keep your dog protected from the sun and cold. It is available in only four sizes from S to XL.

What took our breaths away is fitting it in puppies and the fashionable style it incorporates. While it is more of holiday wear due to the beautiful blend of colors, it can also be used as everyday wear. The combination of patriotic colors, such as the Independence Day colors, and the denim material will make your pooch stand out in a crowd.

The cotton material is breathable and soft, making it suitable for dogs with recently cut hair or old dogs that need comfort as they rest. What you should keep in mind while shopping for the BONDOGLAND Pet Clothes Hoodie is that the size is a bit smaller than the standard size. Take your dog's measurements, especially the chest girth, to correctly size it up.
Pros
Made from a durable cotton fabric
Available in a blend of beautiful colors
Super comfortable with beautiful cutouts
Machine-wash
Check price
If you are looking for a range of similar dog hoodies in a wide assortment of colors, then the Gooby Dog Fleece Vests should top your list. They are available in up to 17 colors! This fuchsia sweater, for instance, can be rocked by your female furry friend on all occasions! It is a bright garment that will not only lift the spirit of your dog even when it's cold, but yours as well!

It is available from XS to XL sizes, and it doesn't require any Velcro, buttons, or zippers to stay put, it slips on and off without a hassle. The Gooby Dog Fleece Vests are made from one hundred percent polyester. The material is fleecy on the inside, but thick and robust on the outside.

The hems and sleeves are skillfully and durably stitched, and although there is no hood to cover the dog's head, the design allows it to cover the entire length from the neck to the tail's base. It is also stretchy, with an O-ring space for your dog's leash. In a nutshell, you are going to love how versatile and remarkably fitting this cloth is on your doggie.
Pros
Made of pure polyester, hence machine-wash
Available in up to 17 colors
Inner fleece for warmth
Has a hole for a leash
Cons
Sizing runs small
O-ring for the harness not securely stitched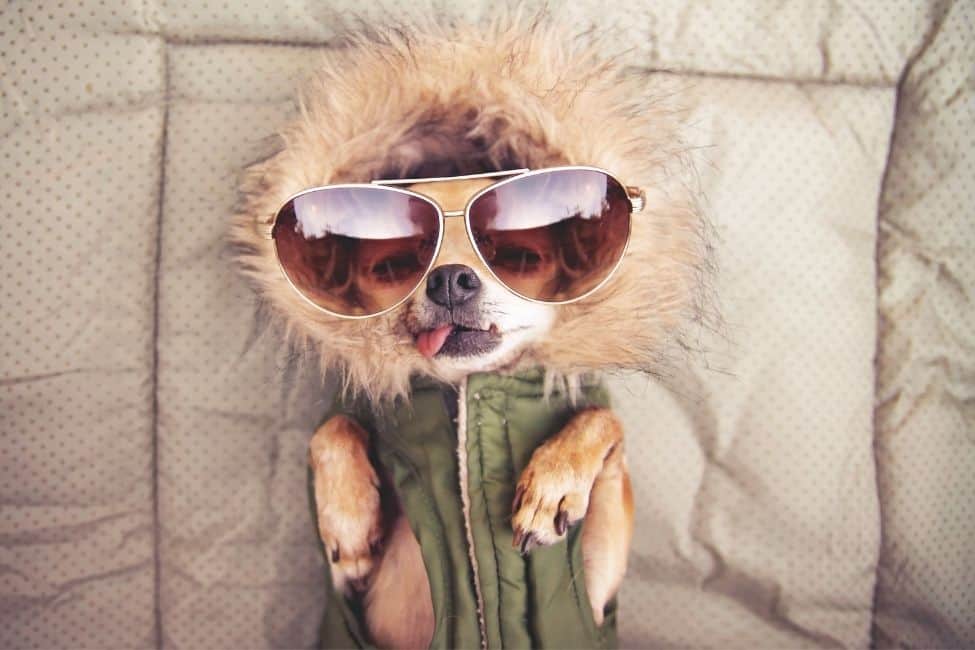 Things to Consider Before Making a Purchase
When buying hoodies for dogs, it is important to make some consideration to ensure that your dog is safe, free, well-protected, and happy. Of course, finding the right one might be an overwhelming task, which is why we have compiled a few important things to consider.
Size
Size is the most important thing to look at before making a purchase. The last thing you need is to buy a hoodie that won't fit your dog or last long for that matter. Correctly size up your dog by measuring its length and girth to find the right one. Do not use other dogs or the weight of your dog in determining the size. Ultimately, you should get one that isn't too tight or too loose.
Wearability
If your dog is not used to wearing any clothes, then you are probably going to have a hard time getting it accustomed to a hoodie. As such, find a garment that is easy to slip on and off. The design, in this case, won't matter if your dog won't wear it. Don't frustrate your dog.
Washability
If you barely got time to hand-wash the hoodies for your furry friends, then find one that is machine-washable. This is because regardless of the season, whether it is winter or summer, the frequent use of the garment will leave it smelling and dirty, and this could attract parasites, or germs, leading to other problems.
Material
Pooch hoodies come in a variety of materials, ranging from polyester, pure cotton, and poly-cotton among others. While choosing one for your pooch, it is important to consider the weather and how sensitive your furry friend is. Hoodies with fleece lining are great for sensitive dogs. Polyester material does great for winter clothes. Soft and lightweight materials do great for more warm temperatures.
Does my dog need a hoodie?
Doggie hoodies are cute and all, but how do you know if your pooch needs one? Here are a few pointers to keep you in the know:
Does your dog have a double coat?
Some dogs like huskies and Alaskan malamutes have double coats, and they don't need sweaters to deal with weather extremities. As long as they are healthy, they should be fine.
How big is your dog
Small dogs require some level of protection against the cold. They have less fur and cannot generate and maintain body heat compared to large dogs. Consequently, small dogs also have short hair and are lacking the defense that dogs with double coats enjoy.
How old is your dog?
Like young dogs, old dogs are likely to need sweaters to remain warm during the cold months of the year. They are less capable of retaining heat. The same goes for puppies.
Does your dog have a medical condition?
A dog with an underlying medical condition will spend most of its energy trying to maintain its health and will less likely be able to tolerate the cold. This is especially the case if it has illnesses such as cancer, diabetes, or heart problems. The same goes for dogs with arthritis. Hoodies and sweaters will help them remain warm during winter.
Does your dog have enough body fat?
Dogs like greyhounds and whippets are naturally thin. Their bodies have less fat and that means a reduced ability to conserve body heat. They will be much safer wearing a hoodie.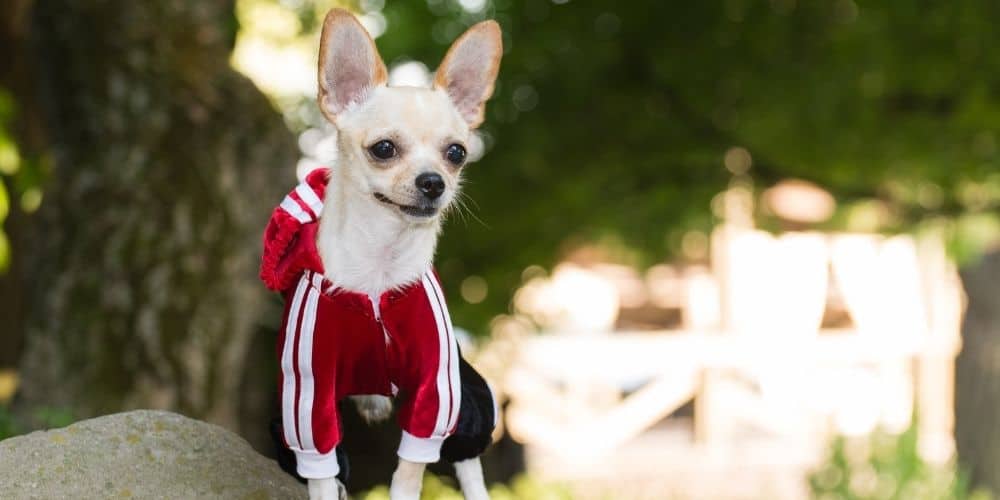 FAQs
What is a dog hoodie?
It is a piece of clothing that dogs wear for warmth and style. It has a hood that can cover the dog's head and ears and is made of polyester, cotton, or poly-cotton.
When should a dog wear a hoodie?
Dog hoodies can be worn through all seasons, but for the warm weather, it is important to find ones that are made of light material. Polyester or a blend of poly and cotton will do best for cold weather.
How to wear a doggie hoodie?
Start by rolling up the hoodie and pushing it over your dog's head to ensure that they see immediately after slipping it on. Then put the paws in their respective sleeves one after the other. Most hoodies have only the front sleeves.
Wrapping it up
After investing a lot of time going through dozens of dog apparel available on the market, and after several trial and error with some of them, the above ten dog hoodies are some of the ones we considered the best. Of the ten dog hoodies, our favorite and the best dog hoodie was the Ellie Dog Wear Zip Up Adventure Charcoal Grey Hoodie. Although the Gooby Dog Fleece Vests offer a lot in terms of versatility and style, the Ellie dog hoodie somehow proved to be the best all-around.
It is available in many sizes and can fit puppies as well as large dogs. Coupled with its lightweight nature, comfort, durability, and robust stitching, it has everything your dog needs in a hoodie. The design is less-obtrusive, and it doesn't restrict the movement of your dog. Better yet, it can be easily slipped on and off, thanks to its adjustable zipper. We are one hundred percent confident that you will love it, and will buy it again!
It fits almost any sized dog and is the perfect combination of lightweight and comfortable, yet also strong and durable. The cut of the hoodie keeps it out of the way during bathroom breaks, keeping it clean longer than some of the others, and you just can't beat that adjustable zipper for making sure it fits your dog perfectly. I will 100% buy this hoodie again.