Dog owners know that finding the proper leash or lead for their pet can be a little bit of a challenge. Some dogs are picky when it comes to their choice length, and others might only walk properly if they have their preferred leash linked to their collar.
If you're in the market for a new dog leash and aren't too sure where to start, you've come to the right place. Below, we'll review the best 10 dog leashes that are currently available on the market, as well as go over some things you might want to consider when searching for the best leash, and some FAQs.
What to Consider When Purchasing a Dog Leash
There are many considerations to keep in mind when looking for your dog lead.
Are you looking for something standard, or a retractable option?
Would your dog prefer a harness, or should you look into a double leash so you can walk more than one dog at once?
While the number of questions you need to ask yourself might seem daunting, let's start with the basics: what kind of leash is right for your dog?
Types of Dog Leashes
Standard Dog Leashes
Perfect for your average dog, the common type of dog leash is generally made of nylon or leather, and is usually tough enough to restrain an adult dog. Their length is, on average, between 4 and 8 feet, although 6 feet is the most common, which is around the length you should be on the lookout for. This length allows plenty of freedom for your pooch, but is also short enough for you to keep them in control if necessary.
Common leashes can also be made of cotton or rubber, but these options are far less durable than nylon or leather. That said, a common dog lead is a really great option if you're just looking to walk with your canine companion, or teach them some basic training commands.
Retractable Dog Leashes
What is great about this type of dog leash is the variety of length it allows you to have. Retractable leashes work kind of like a measuring tape; the nylon leash extends anywhere from 4 to 30 feet and you can utilize the plastic handle to lock the leash at any length you choose. When you release the lock, any excess slack is collected by the leash in the handle.
This type of leash is quite popular, but it does come with some dangers, which include:
Rope burns
Strangulation from excess leash
Therefore, because of these risks, we recommend that you don't utilize a retractable leash until your dog has some good training on a regular lesh. Otherwise, it can be a great option for many dog owners.
Dog Harnesses
While not technically a leash, a harness is an important part of your dog's walking ensemble. This type of dog product is beneficial because it gives owners a larger amount of control over their dog when on leash.
Plus, they're quick and easy to use. Simply place the harness around your pooch and adjust it to the proper size. Then, clip your leash onto the harness and you're ready to go!
There are several different types of harnesses, each with their own benefits and drawbacks. If you're interested in buying a harness for your pet, you'll want to look into those.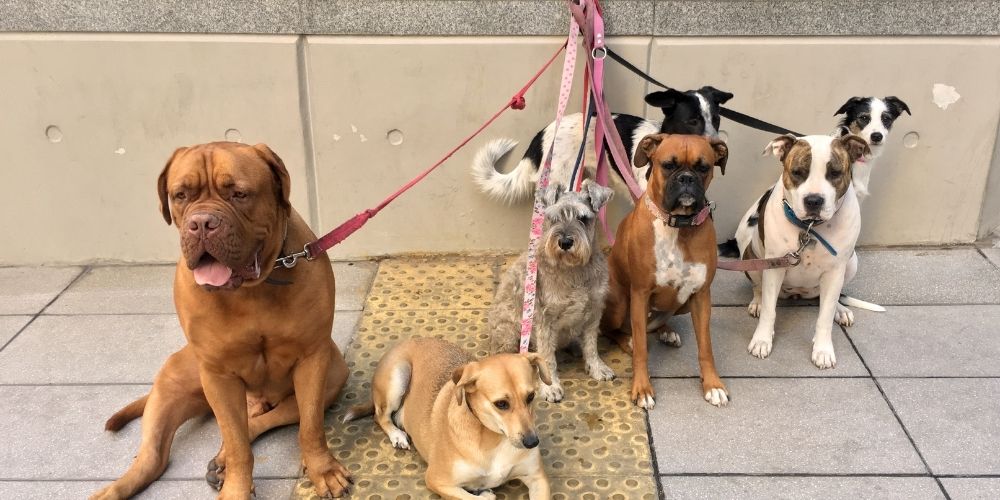 Considering Material
Other than the type of leash you want to get your pet, the material is the next most important factor to consider. Each option will provide some benefits, but also some drawbacks for certain breeds.
Nylon
Your average dog leash will likely be made of nylon. Usually, they're the most affordable option and are easy to clean. That being said, they're easy for your dog to break or chew through, and can lead to burns on your hands if your dog is a big puller.
Generally speaking, nylon leashes are good for your average, daily walk, and quick trips to places like the vet or the pet store. If you're looking for something with a little bit more in any specific area, you'll likely want to check out another material option.
Leather
Quality leather leashes are usually long-lasting, but can be tough to clean if it gets dirty. They're generally a little stronger than nylon leashes, and offer more flexibility. Additionally, they're a bit softer on hands, and can be a good choice if your dog is a puller.
Unfortunately, leather leashes are usually a bit more expensive than their nylon counterparts.
Chain
If your dog has a problem with chewing on and destroying their standard leash, you can look into buying a chain leash instead! This option comes in a variety of sizes and thicknesses, so you can be sure you're getting the appropriate product for your pooch.
When utilizing a chain leash, make sure you're keeping a close on your pet. This is especially true at first, because if your dog doesn't learn quickly that they can't chew on their leash, it could lead to tooth damage. Otherwise, this is a great and strong option if you're worried your dog will break their leash and escape on a walk or run.
Reflective
You will want to consider a reflective leash if you'll be walking or running with your pooch after the sun has gone down. Usually, these type of leashes are also made of nylon, but interwoven with a reflective material that will make you ultra visible to cars (and their bright headlights).
Other than the reflective material, there's not much different between these types of leashes and nylon ones, except for price point. Expect to pay more if you want a quality, reflective material.
Other Important Factors
Now that you probably have some idea of which type of dog leash would be the proper choice for your pet, there are some other considerations you'll want to keep in mind during your search.
Width
While length is pretty standard amongst leashes, that's not the case with width. If your dog is a chewer or a strong puller, you'll want to go with a thicker leash so they don't break them at an inopportune moment.
On the other hand, if you have a young or relatively small dog, you probably don't need a very wide leash. In fact, many thick leashes can be too heavy and restrictive for puppies and other small dogs.
Style of Clip
This is one of the most important parts of your dog's leash, because you really want a strong and reliable clip to ensure that your dog doesn't break free and run away during an outdoor excursion.
The most common types of clip are bolt snap and trigger snap. The bolt snap option is a reliable option, but their springs generally start to weaken after significant use. Therefore, you'll need to replace either the clip or the entire leash often if you're using this type.
Trigger snap clips, on the other hand, are usually larger and feature robust springs so they won't wear out as easily. They also open inward, which means your dog is far less likely to escape his leash using this type of clip.
Other than the style, you'll want clip made of quality metal, like stainless steel or brass. Both of these resist corrosion and are water resistant.
The Best Dog Leashes on the Market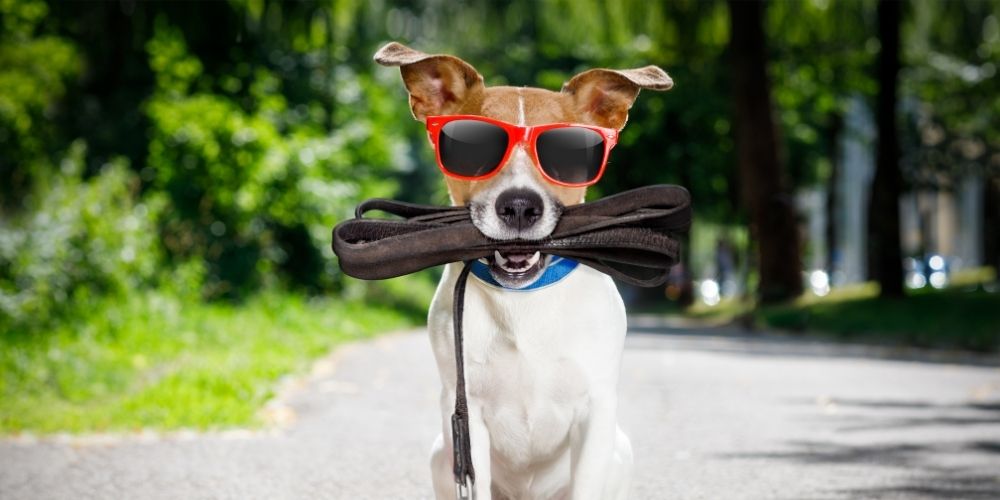 Considerations for your dog's leash, we'll now turn you onto some really great products that can be purchased right now! Just keep in mind that these products vary over a range of prices and types, so you'll need to keep your particular preferences in mind to find the best product for your doggie.
Best Standard Leashes
Check price
This great product from PetSafe comes in 7 different colors, and utilizes an "easy-to-use" bolt snap clip. It's also 6 feet in length, and 1 inch in width, both really great specs for your average pooch.

This product is also relatively inexpensive, which makes it a good option for anyone on a budget. That said, it doesn't allow your pet the freedom of an adjustable leash. Plus, it can be chewed through by a tenacious chewer, and broken by strong dogs who like to pull on their leash.

Overall, PetSafe is a trusted brand and a leading manufacturer of pet products in the United States. They've been helping people and pets since 1991, and their leash product is a really solid option if you're not looking for anything too fancy.
Best Standard Leashes
Check price
This product is a little bit more niche than its above counterpart. This is because it's a small snap leash, great for dogs who are 50 pounds or less.

What's nice about this leash is its British style, which are soft on the hands and offer a "broken in feel" right from the start. These leashes are only 3/8 inches wide, and come in a 4 foot and 6 foot option. They're also waterproof, and come with the Mendota lifetime guarantee.

There are also 45 different color options for this leash, perfect for the dog owner who loves to customize. That being said, they are a bit more expensive than the PetSafe leash, and aren't suitable for dogs over 50 pounds.

Best Budget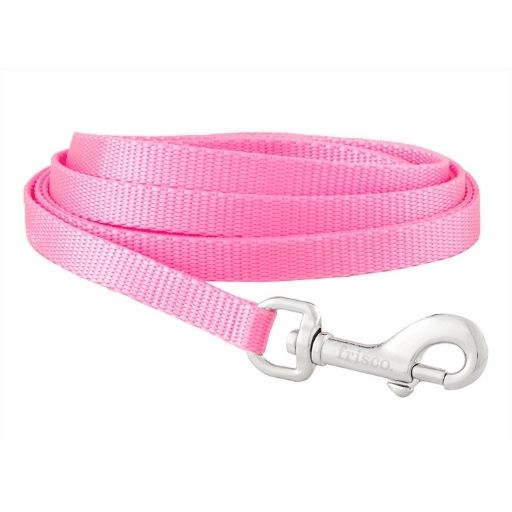 Check price
If you're on a pretty strict budget, you don't need to worry about being unable to purchase a quality leash for your pooch-pal. You can get this nylon Frisco leash for only $6.99. And, if you buy it with Orijen Dog Food off of Chewy, you can get 20% off your leash.

This product comes in four different color varieties, and 6 different size options! You can get either a 4-foot or 6-foot variant with any of the following widths: 3/8 inches, 5/8 inches, or 1 inch!

The Frisco Solid Nylon dog leash also features a bolt snap clip, and its woven Nylon uses Ultra-Weld seal protection that provides additional strength. Rest assured that, even if you can't offer a top-line leash, you're still purchasing a quality product for your pet!
Best Leash for Dogs who Chew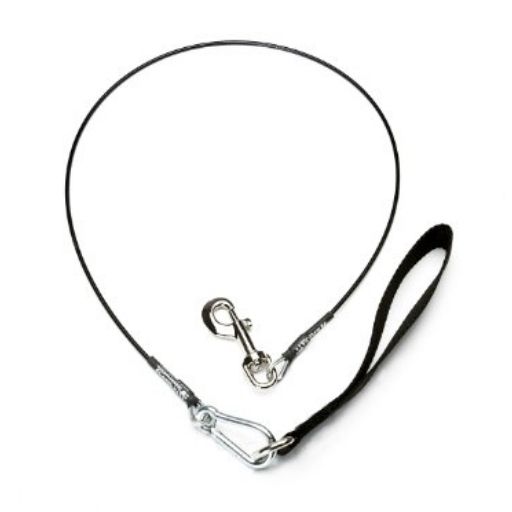 Check price
If you have a dog who loves to chew through their leash, check out this "indestructible" product from VirChewLy. It's made entirely of vinyl and steel, and has a breaking limit of over 900 pounds. It's, therefore, practically chew proof and break proof.

This leash comes in 9 different size options, making it an appropriate option for dogs of any size. It also comes in 5 different color options, from black to pink and every color in between! That being said, it's quite a bit more expensive than any of the above leash options, so it might not be a great choice if you're on a budget.

Best Retractable Leash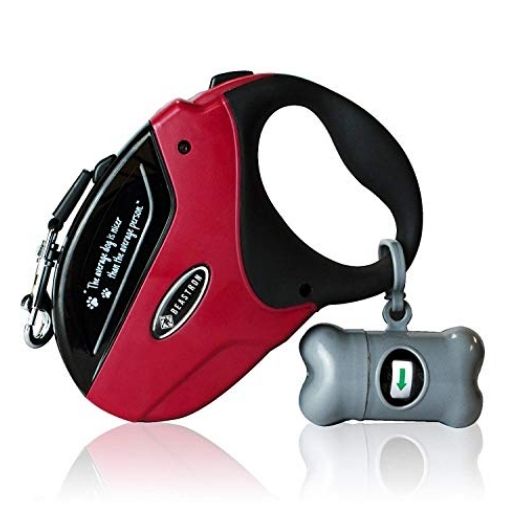 Check price
For those who decided that a retractable leash is the proper choice for their dog, check out this product. It's a blue leash that's on the more expensive side of dog leashes, but features an ABS plastic casing and anti-slip handle that will keep your dog in your hands.

With a maximum weight of 110 pounds, it can be used for fairly powerful dogs and give them the freedom that only a retractable leash can. It also comes with an absolutely free roll of plastic bags in a bone-shaped doggy bag cone!

One thing that might turn you away from this product is if your dog is a puppy, or not great at walking on a leash. As mentioned above, this type of leash can be a bit dangerous and a choking hazard. Otherwise, this is a really solid leash option!
Best Leash for Dogs who Pull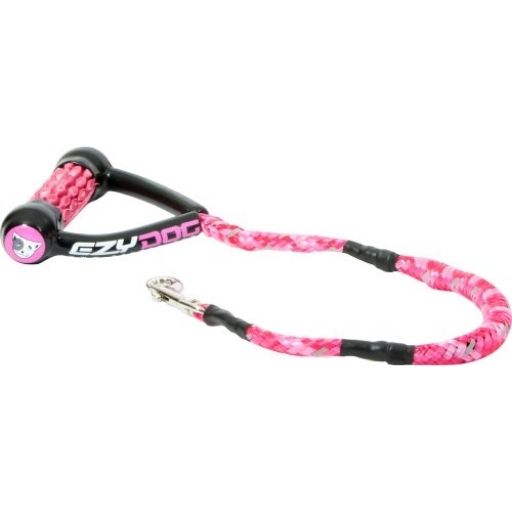 Check price
This leash, another more expensive option, features a really cool pyramid pull handle with soft EVA padding. This helps when dogs are pulling, as it evenly distributes the pulling force and provides better comfort and control.

With a 25 inch (about 2 feet) and 40 inch (about 3.3 feet) option, this leash is made of a durable Polypropylene material that has a 1500 pound break strength! That being said, it might not be great for large, strong dogs because of its length.

You can also add 2 extensions to this leash that will allow you to walk multiple dogs at once! Plus, it's woven with high reflective threads that will improve your visibility during night walks.

Best Leash for Night Walking
Check price
Speaking of night walking, if you work during the day you might only be able to work your dog in the dark. If this sounds like you, or you just like going for a walk when the sun goes down, check out this product from RUFFWEAR.

What's so great about this climbing-rope inspired leash is the integrated reflectivity that provides a large amount of visibility in the dark. Additionally, it features an accessory loop that can be used to hold treats, a clicker trainer, or anything else you might need.

With four color options, and a 5 foot length, if you're walking with your pet as night, you can use this option to keep them safe!

Best Leash for Running
Check price

For some people, walking with their dog does not provide enough exercise. If you love to run with your dog, you might want to use a special leash like this one from Stunt! It has a simple, lightweight design, and a hands-free design that lets you connect your dog's collar to any part of your body (usually the waist).

The great part of this product is its proprietary connector piece that stretches from 35 to 51 inches! This will give your dog, and you, the freedom to spread out while still staying tethered to one another.

The belt also can be adjusted from 28 to 49 inches, so it's great for individuals of many different sizes, and comes in six different colors. Unfortunately, it's probably not the best product if your dog likes to chew on their leashes, or if they pull really hard.
Best Hands-Free Leash
Check price
Yet another hands-free dog leash option, this product also wraps around the waist, but goes all the way from a 22 inch option to a 60 inch one! It's also quite a bit less expensive than the above hands-free product from Stunt.

This leash is made out of nylon, and features a quick-release mechanism that will allow you to easily detach and reattach your pet to you. Plus, you don't always have to use it hands free. The lead converts into a hand held leash with ease!

Best Leather Dog Leash
Check price
Finally, if you decide that the leather option is the best for you and your pet, you can check out this product from Leatherberg. This brand is great because, if you're not totally sure this product is right for you, they offer a 100% money back guarantee for a full year!

This leash is 6 feet long, and made of full grain Latigo leather. It's 0.7 inches in width, but its sturdy leather is durable and will absorb a good deal of your dog's pull. It will hold up to dogs of any breed.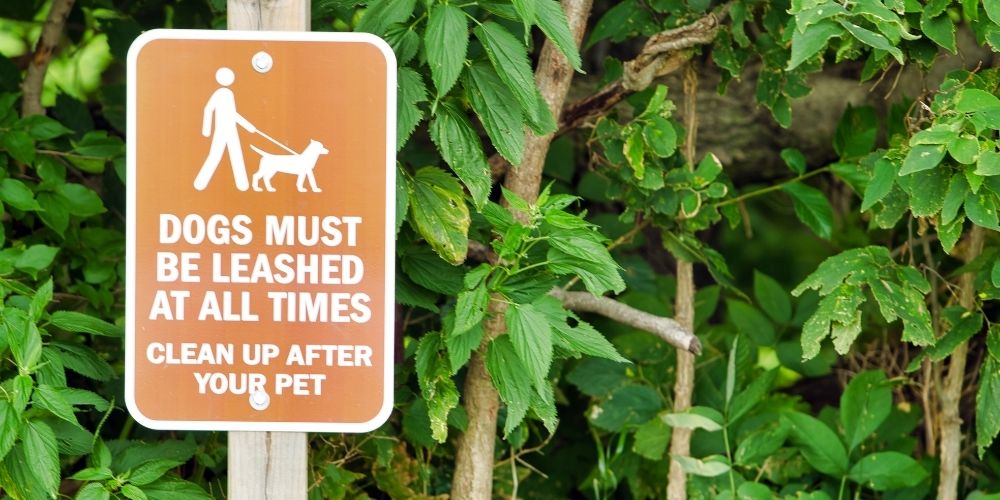 FAQs
Now that you probably have a pretty good idea of the type of leash you want to purchase (or maybe even the exact product you want), here are some frequently asked questions for your convenience.
How do I know what size leash to get for my dog?

Leashes come in many shapes and sizes, and there's a big difference between picking out a leash for a Chihuahua and one for a Great Dane. 3 to 4 inch leashes are great for young dogs and puppies, or if you're working on training your pet. Longer leashes, 5 or 6 inches long, are generally better for larger or older dogs.
That said, it also depends on the environment you're going to be walking in. Shorter leashes are preferred for crowded streets, while longer leashes might be more appropriate in spacious areas with less people.

What is the D ring on a dog's leash for?

To attach your dog's leash to their collar! it's called as such because it's shaped like a "D", which is most comfortable for your dog and offers the best design to keep it from snapping.

Can a leash hurt a dog's neck

Yes, it's possible that if your dog's collar is too tight, or if their leash is too heavy, your dog's neck can be hurt. However, if this very rare, and if you're taking good care to make sure your dog has quality care products you should be absolutely fine.
The End of the Leash
Although it really depends on what you and your dog are looking for, our choice for the best product is EzyDog Cujo Shock Absorbing Leash. Although it's one of the most expensive leashes on our list, it's 1500 pound break strength and woven reflective threads are really hard to beat.
Best Leash for Dogs who Pull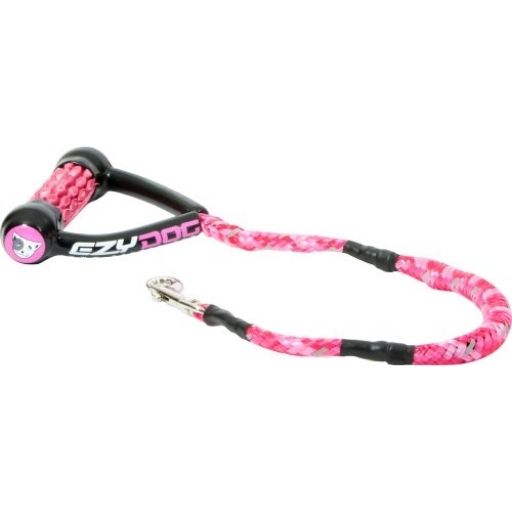 Hopefully, now that we're at the end of this article, you've found something useful that will help you find the best dog leash for your pooch. While the amount of available options can be daunting, as long as you use our guide and keep your pooch's preferences in the back of your mind, you'll find a great product.
---