Not all dogs have thick fur to protect them when winter comes. Dog breeds such as Chihuahuas are sickly and nervous dogs need the warmth and protection of a blanket. Dog blankets come in different sizes, materials, and prices. It can be challenging to pick the right blanket as most of these items differ only in decorative elements and prices.
Read our reviews to help you pick a dog blanket that meets the needs of your canine friend and fits in your budget.
Why Does Your Dog Need a Blanket?
On a cold winter, when you curl on your couch with a throw blanket, the dog tends to hop on the couch to join you. If you allow that to happen, your throws will be in a horrendous state. Blankets for your dog not only keep it warm, but also protect your furniture from dirt, scratches, and pet hair. With a blanket for your dog, you never have to deal with pet hair and pet dander on your furniture.
A good dog blanket provides your pet with:
A sense of security
A good night's sleep
A safe zone to call their own
A place they can shed without you rebuking them
What Kind Of Doggie Needs a Blanket?
The blanket keeps your dog warm and comfortable. This works for small dogs with a thin fur coat, dogs that are sick or recovering from an illness, or dogs that are nervous.
You can tell your dog needs a blanket if:
They shiver during cold days
They always hop on furniture under the warmth of your blanket
They seem nervous and they bark a lot
They are sick or recovering
The breed is from a tropical region
If your dog is comfortable, they exhibit a happy dog body language. They will relax their ears, close their eyes, wag their tails, and may be drooling when they sleep. When in a warm blanket, the dog will not run to you and leave their warm spot.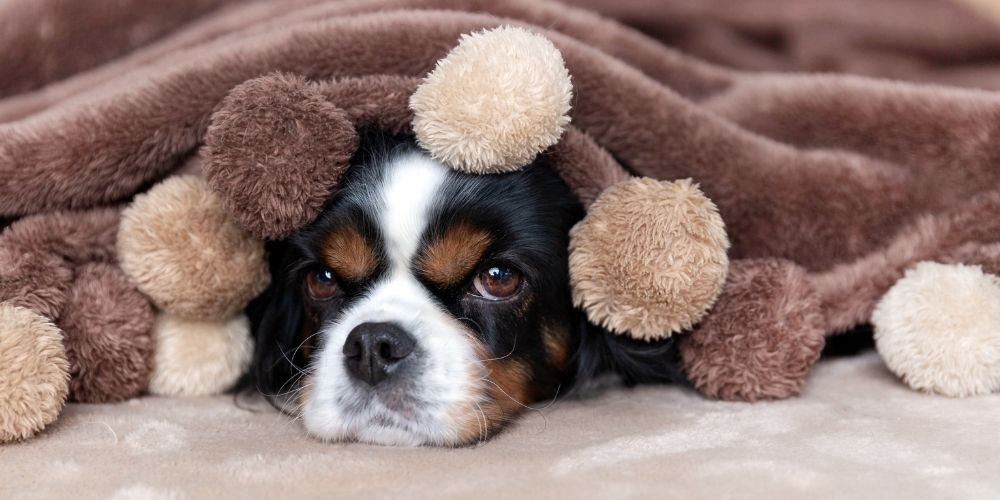 How Do You Pick the Right Blanket for Your Dog?
Dogs love soft blankets made of natural materials such as cotton, linen, or wool. A soft blanket makes the dog comfortable and is easy on their skin. The size and thickness of the blanket will depend on the size of your dog and the severity of the winter.
Before buying a blanket, measure the full length of your dog and pick the smallest blanket. Also measure their girth. Once you choose the size and the material, other factors that will matter are your budget and any additional features such as decorations that the blanket might have.
Below are some of the best dog cozy, warm, and waterproof blanket reviews for your dog from our thorough research.
The Best Dog Blankets Reviews
Check price
This FurryBaby dog blanket is available in seven sizes from a small blanket that measures 24 by 32 inches to the Jumbo, which is 59 by 78 inches. It is a lightweight blanket that your dog can carry around. The fleece construction makes the dog blanket easy on the skin of your dog and provides warmth on a cold winter.

This dog blanket is available in a gray color that will match the décor of your home. After use, pet hair and pet dander shakes off the blanket, making it easy to care for. Further, the blanket does not shrink after washing, and you never have to worry about losing its size and shape.

FurryBaby blankets are machine-washable, and you can tumble dry them without losing their color. Further, the manufacturer claims that the fleece material they use is environmentally friendly.
Pros
Lightweight, but warm
Made of environmental friendly fleece
Available in several sizes
Cons
The material is polyester, which may produce static and cling on dog fur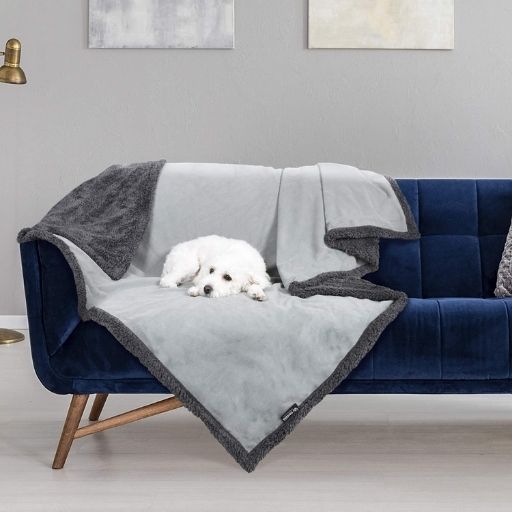 Check price
One of the main benefits of this dog blanket is that it a Waterproof Blanket. This ensures that liquids do not seep through, especially when the dog is sleeping on your furniture. It is available in four sizes and a combination of eight colors.

Each dog blanket features a micro fleece that keeps your dog warm. It further has a Sherpa lining that enhances the warmth of the dog. This waterproof blanket is reversible – there is a side with a Sherpa lining and another with a micro fleece. Both sides keep the dog warm and ensure that liquids do not seep through. It is a lightweight blanket, so your dog can carry it on its back wherever they go in the house.

You can use the dog blanket on your furniture, on a dog bed, or on outdoor platforms. It is easy to shake off dirt and pet hair from the blanket.
Pros
Easy to clean
Waterproof Dog Blanket
Available in different sizes and color combinations
Cons
The blanket is not machine-washable
Check price
PetAmi offers this waterproof pet blanket in a choice of four sizes and 16 color combinations. It is a waterproof dog blanket that allows your pet to sleep on the sofa or on your bed without wetting the furniture.

You can reverse the pet blanket as it has two warm sides. One side has a Sherpa lining and the other has micro-fleece. Both sides are warm and do not allow liquids through. The blanket sports a soft and plush design that is warm and comfortable for your dog.

The manufacturer uses 460 GSM microfiber polyester that is lightweight, but highly durable. This fabric is machine washable; you never have to struggle caring for it. You can use the pet blanket on your sofa, bed, car seat, and on your carpet and floor. You can also use it for cats as a cat blanket as well.
Pros
Provides moisture barrier
Lightweight and durable
Easy to care for as it is machine washable
Waterproof dog blanket
Check price
This is a pack of six fleece blankets designed for puppies. You can use the blankets in your car, on your sofa or bed, and to protect your carpet and floor. Before you buy, you need to measure the full length of your dog so that you know whether the blanket will meet your needs.

It features a soft fleece material that makes the pet blanket comfortable for your dog. The material will not hurt the skin of your dog or puppy. This material is machine-washable, and you can tumble dry it, making it easy to care for.

You can choose from a host of colors and patterns to meet your taste and preference – there are six colors in each pack.

Pros
Available in different colors
Lightweight and soft for comfort
Easy to clean as the blanket is machine-washable
Cons
Only available in small sizes for small dogs
Check price
This is a pet blanket option for anyone looking for an affordable dog blanket option. It is available in two sizes and four color options. It sports an ultralightweight fur material that makes it feel like the coat of a mother dog. Further, the material is vegan and more sustainable than synthetic materials.

The dog blanket provides superior comfort, warmth, and breathability to keep your canine friend warm all winter. The soft and neutral color combinations will match the décor of every home.

This dog blanket is machine-washable, and you can also tumble dry it. You need to wash it cold with a machine and then dry it low. Before washing it, be sure to shake it thoroughly to remove all the fur from it. After washing, dry it completely to prevent matting of the dog fur on blanket. However, you should not air dry the blanket.

Pros
Easy to clean
Lightweight, but warm
Plush and self-warming material
Water and dirt resistant so that moisture doesn't get to the other side
Cons
Only available in two sizes
Check price
The RHF Reversible Sofa Dog Cover sports a unique design for dogs that sleep on your sofa and your bed. This pet blanket is available in different sizes and designs. You can use it on a recliner chair, an oversize recliner, a loveseat, and even an extra wide sofa.

Each dog blanket features a quilted faux cotton material that makes it soft for your dog. It is a reversible blanket available in a choice of 11 colors to match the décor of your home. It has an elastic strap that keeps it in place on your sofa so that you do not have to keep adjusting it. However, it may not hold its place if your sofa is made of leather.

You can easily clean this dog blanket in cold water in a machine and then dry it cool. Further, after a dog sleeps on it, you can flick out its fur.
Pros
Easy to clean in a washing machine
Versatile and can be used in different sofas
Available in many colors
Cons
Your dog might need an extra blanket to cover it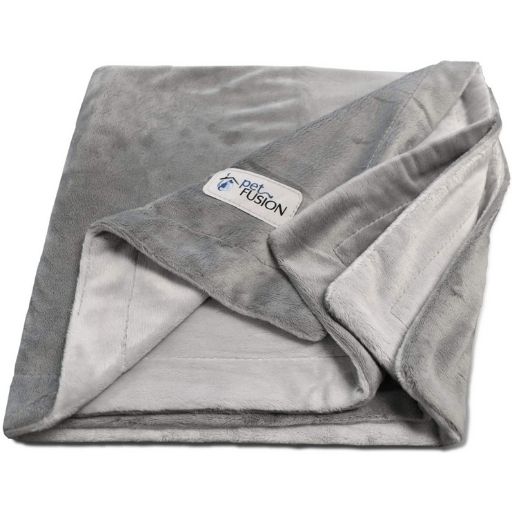 Check price
The PetFusion Premium Pet Blanket comes in four sizes and a choice of two colors. This dog blanket is highly soft and cozy, so it doesn't affect the skin of your pet. The blanket features high quality materials that are shed resistant, have dense fibers, and have a stylish construction.

Each pet blanket has double layers that make it reversible and also warm. There is a dark tone on one side and a light tone on the other to meet your needs. With it, you can keep your dog warm and comfortable on cold days or protect your sofa and bed from pet hair.

Once you buy the blanket, you get a 12-month warranty to protect you from any manufacturer defects. Further, the blanket is easy to clean as it withstands being in a washing machine.
Pros
Made of high quality materials
Reversible
Easy to clean
Cons
There are only two color options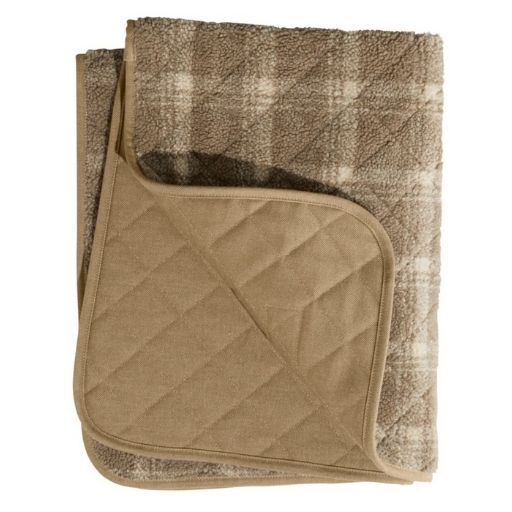 Check price
This blanket comes in two sizes – medium and large. You can pick one of three color options, including burlap, platinum, and vintage indigo. You can customize the blanket by adding a monogram. Although this will add a day in the processing and shipping process, the blanket will look great.

It is a reversible blanket with microfiber fleece on one side and Sherpa on the other side. Further, it has a polyester fill. You can wash the blanket with ease in a machine and then dry it ready for use.

If you do not have a dog bed, the polyester fill makes the blanket soft enough to cushion the dog wherever you use it. You can use it to warm the dog or as a protective surface for your furniture or your car seat surface.
Pros
Very soft and lightweight
Can be customized
Has an extra layer of warmth in the polyester fill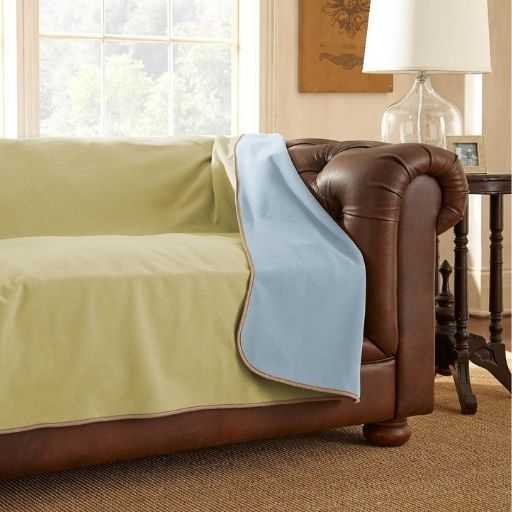 Check price
This cover was designed to warm your dog and act as recliner throw to protect your sofa. It sports a plush microfiber material that is super soft for your dog. The blanket has a waterproof membrane that protects your sofa from spills.

The waterproof pet blanket features a single-layer design that lies on your recliner. It is 100% waterproof. On each side of the blanket is a fleece fabric that encloses a waterproof membrane. When on your sofa, the blanket drapes in a beautiful manner without crinkling.

This USA-made blanket is machine washable. Machine-wash warm and then tumble dry it on medium. The blanket is 70 by 70 inches to fit even the largest dogs. You can pick from a choice of four colors, including bamboo skyblue, buff camel, chocolate cappuccino, and dove slate.

Pros
Soft and lightweight
Waterproof construction
Easy to clean
Machine washable
Cons
Only available in one size
Check price
This blanket features a double-sided velvet fabric, which is ultra-soft for your dog. You can use it on your couch to protect it from hair and dirt, or you can use it to cover your pet on cold days. It comes in three sizes; small, medium, and large and is available in a choice of five colors.

After use, it is easy to flick hair off the blanket and then machine wash and tumble dry it. It is a lightweight option, so your dog can carry it around and to dry fast in case you choose to dry it on a line. The manufacturer uses high quality materials to ensure the blanket lasts long.

This is an ideal blanket if you need a budget option. You can buy two of these for the price of one blanket from another brand.
Pros
Budget-friendly
Easy to clean and dry
Offered in a choice of five different colors
Things You Should Consider Before Buying Blanket for Dogs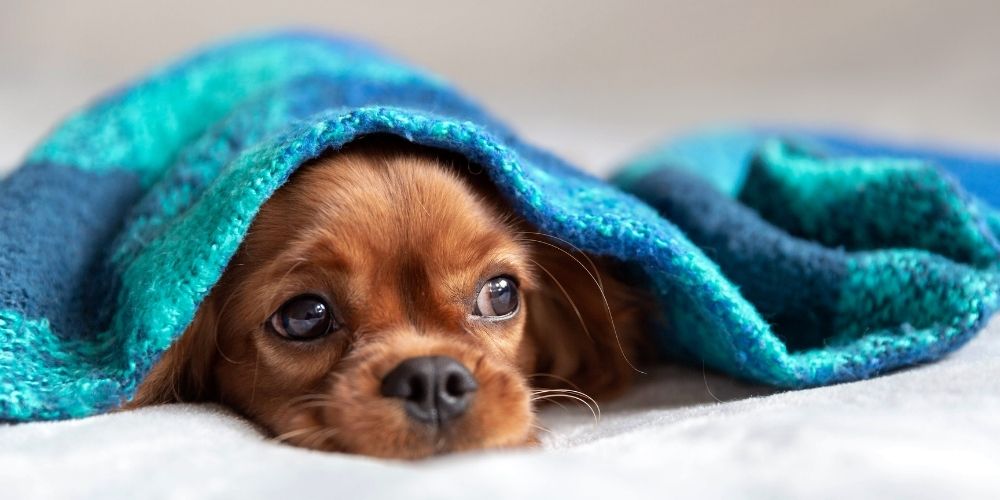 Most blankets have a fleece material that is cozy and warm. If you look at most of the blankets above, you will realize that the features are almost the same, and they differ in size and colors. There may also be a few blankets that are not waterproof.
When shopping for the best dog blankets, consider the following:
Your Dog's Size
You need to pick a blanket that can cover your dog completely, especially on cold winter days. Most of the blankets area available as small, medium, and large, but the manufacturer may offer a sizing chart. There are also blankets that come as a one-size that fits all, but these may not serve your pet.
Buying a blanket for a small pet is easier than buying one for a larger pet. For big dogs, such as Dalmatians, measure the dog when it is lying on its side and then shop with those measurements.
The Dog Blanket Material
Today, most of the dog blanket materials are synthetic. This is a good thing if you feel guilty using woolen articles from animals. The synthetic materials resemble wool and offer the same warmth and softness.
Other blankets have cotton, which is also soft and warm. When shopping, ensure that fabric has a waterproof membrane to keep liquids from seeping through.
Durability and Ease of Maintenance
Ensure that the blanket can withstand chewing as dogs like to chew all the time. Again, ensure the edge of the blanket has double stitching so that it doesn't fray.
Because the blanket will constantly get dirty, pick one that is machine washable and one you can tumble dry.
Budget
These blankets cost between $7 and $200 – pick one that falls within your budget as long as it serves the needs of your dog.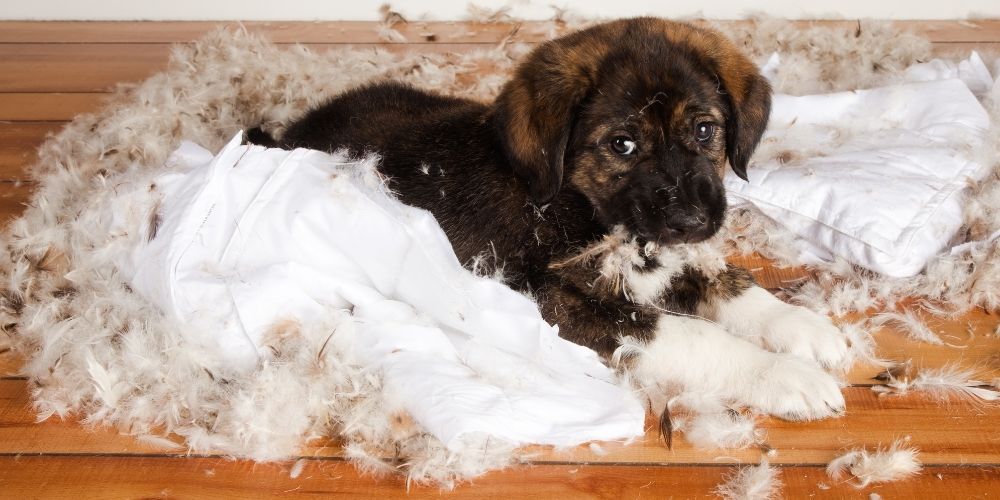 FAQ
What is the best material for a Dog Blanket?

Polyester fleece, Sherpa acrylic lining, and cotton are the best materials. They are more sustainable than wool, and they offer the softness and warmth a dog needs.

What size Dog Blanket Should I Pick?

Measure your dog when it is lying flat. Measure the full length and the width of the dog from the back to the paw. Ensure you add a foot on either side of the blanket so that it fits your dog right. From there, use the sizing chart provided online.

How to keep Dog Blanket clean?

Flick the blanket outside to remove loose hair and pet dander every day. Once it gets dirty, wash according to the instructions provided by the manufacturer.
What's Good for Your Dog?
The FurryBaby Premium Fluffy Fleece Blanket is our top choice among our list of the best dog blankets. It presents a great combination of quality materials, price, softness, and quality construction. This blanket is available in several sizes and colors to accommodate the size of your dog and match the décor of your home.
Most of the dog blankets above have the same features, same construction quality, and the materials are also almost the same. As such, you need to get the blanket that offers the most value for your money. In the dog blankets reviews above, we recommend the FurryBaby Premium Fluffy Fleece Blanket.
If your dog has used a blanket before, and you need a replacement, you will not have a problem teaching it. If this is your first blanket, you will have to teach the dog how to use one to stay warm.